Google Cardboard: Lake of the Isles -- 24 July 2016
So I've been exploring the outdoors because of an app. No, not Pokémon Go. Google Cardboard. In short, it's an app for your smartphone that allows you to experience virtual reality, and all you need is a cardboard viewer (they also have one that looks like a View-Master).
Once you download the Google Cardboard app for Android or iOS, you can explore how to use it and quickly find other apps. I downloaded Google Cardboard Camera and have been playing with taking 360° images and then experiencing them in VR. I made a few around my apartment, then went out in the rain to get some of Wita Tomna (a.k.a. Lake of the Isles).
If you're interested in seeing my 360° images, you can download this .zip file (the pictures are still neat without the app). On Android, you should be able to save them to your Images/CardboardCamera folder. Let me know if it works. When I created them, I was able to include sounds, though I'm not sure how I would transfer this to others.
I've also played around with a Star Wars app that lets you see the opening credits and BB-8 in VR and a motorcycle app (I still keep crashing before I get very far). There are also many more capable apps.
Let me know if you find more cool apps or better, are willing to share some 360° images!

top
---
"One" more day as vegan -- 29 June 2016
Well, friends, my 30 days as vegan is drawing to a close. It hasn't been a perfect month, but I did pretty good. I will admit two things: first, that I am looking forward to going "back", but second that I know my journey is probably not over.
I've learned a lot, and it's been an interesting experience learning what it's like for people who avoid animal-based products - and the surprising number of foods that contain them (like chewing gum, many processed snack foods, and types of alcohol).
I've been enjoying this week... I made the Indian snack food dhokla (thanks to a friend from work!), cinnamon roasted some almonds, cooked a pasta sauce, and tried kohlrabi for the first time. Here are a couple pictures: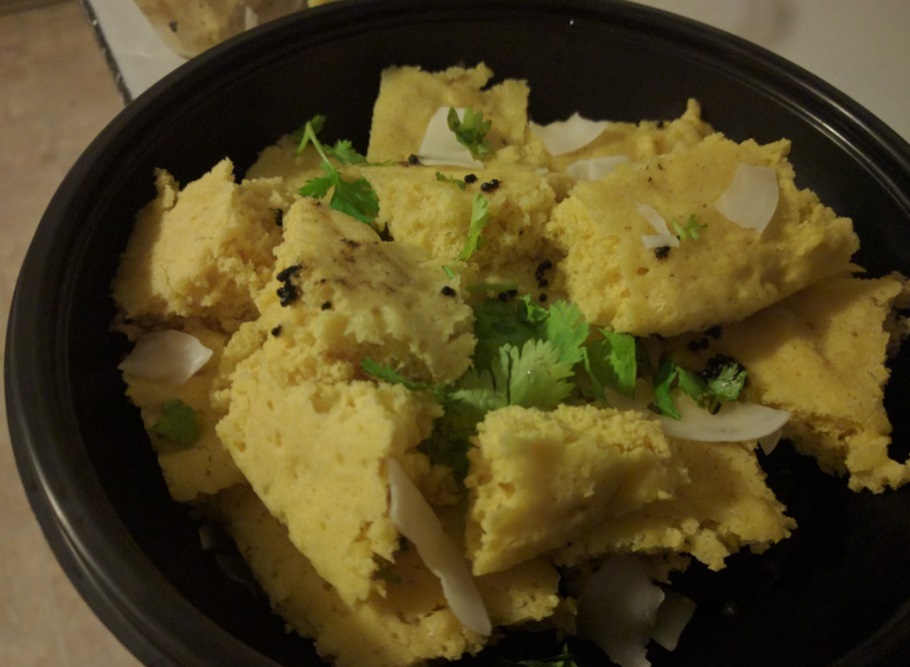 Dhokla, with corriander, mustard seed, and coconut flake garnish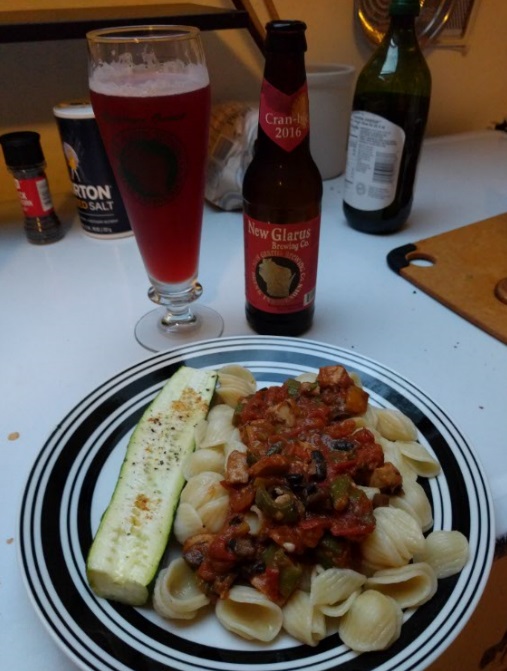 pasta sauce (with okra) and baked zucchini
I'm looking forward to enjoying some Wisconsin cheese and trying baked avocado eggs. But I also have a few vegan recipes and ideas to try yet. Not to mention a list of documentaries and books on veganism and related subjects that I am still interested in exploring!

top
---
Vegetarian vs. vegan -- 19 June 2016
Yesterday and today ended up being vegetarian, rather than vegan. I was in New Glarus, Wisconsin. It was really hard to resist (and avoid) meat, let alone cheese. Pretty much everything is covered, cooked with, or is cheese. I don't feel bad, because it was really easy to be vegetarian, and I could enjoy enough foods to fit in with everyone else.
I had a lovely portabella mushroom sandwich with pesto and mozarella cheese (very fresh). I tried some cheese samples (once I accepted that being vegan over the weekend would be too hard), and had a lovely butternut squash ravioli (this was the vegetarian option at the restaurant, and it had a cream sauce). That restaurant also had a delicious roasted red pepper soup.
While it felt like I was going against my convictions at first, the experience was highly introspective. It was truly easy, though a bit tough to resist the many Wisconsin meats and sausages. It made me think about the possibility of being vegetarian on a more long-term basis, or perhaps pescatarian (I like seafood and sushi a lot).
Other than that, it's been a great week. I enjoyed several leftover meals of the tofu stir fry I made, a couple salads, and vegan-friendly peanut butter sandwiches.
...oh, and by the way, New Glarus beer is mostly vegan friendly! (updated 2020-09-10)

top
---
Cheese and bacon -- June 12, 2016
I'm happy to say I haven't tripped up this past week. While I was sad to not have a free donut at work, I made another delicious stir fry, had Earth Balance vegan mac & cheese (surprisingly comparable to Kraft, though substitute the full stick of butter with vegan margarine), and spent about $60 at the farmer's market.
I've been experimenting with smoothies, and they've been quite tasty. My favorite so far was banana, kiwi, strawberries, and soy milk, but I also enjoyed the apple + peanut butter + kiwi + raisins. I also made a nice sandwich with avocado, greens, tomato, onions, and pickles.
Brunch this morning was perhaps the highlight of the week. I made the aforementioned strawberry/kiwi smoothies, cooked potato+sweet potato wedges, and made vegan bacon. The crispy pieces were the best. The softer pieces definitely had the texture and flavor of coconut (combined with the bacon-y flavor). I plan to try some of the leftovers on salad this week.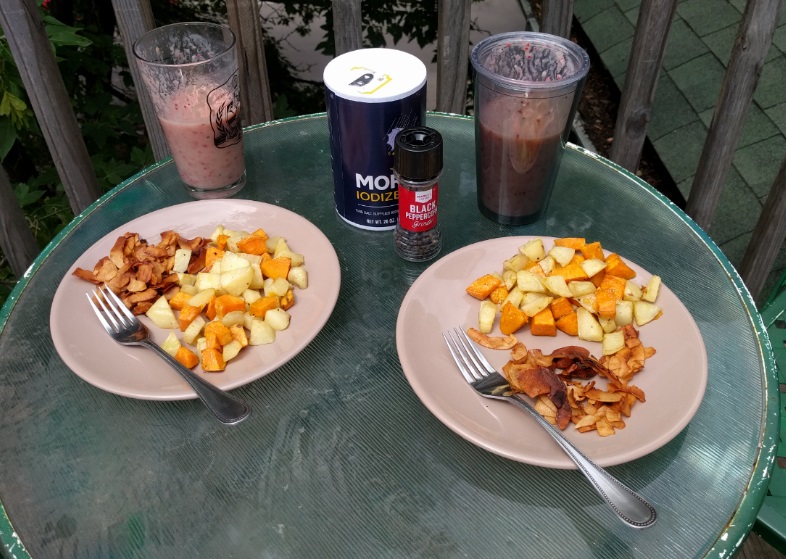 I'm excited for using the many vegetables I bought, cooking tofu myself for the first time, and making a couple more smoothies this week.

top
---
Six (ish) Days as Vegan -- June 6, 2016
I had great momentum for my first few days as vegan. I found a vegan Meetup.com group in the Twin Cities. There happened to be an event the weekend before I began, and a great event at that; we toured Whole Foods with a vegan guide. I felt so enabled, that I could meet my nutritional requirements and enjoy many new recipes. I learned about vegan cheese and vegan brats. I haven't tried them yet, but I plan to.
In the first three days, I tried yogurt made from almond milk and from coconut milk. The yogurt from almond milk was better, in my opinion, and I would totally buy it as often as I bought cow's milk yogurt, if it weren't 2-3 times as expensive.
I also tried my work's fantastic salad bar, almond milk, and blackened tempeh tacos from a local cafe. The tacos were a lot like fish tacos, and I would get them again even if I weren't going vegan.
This weekend, I had an amazing time at my aunts' wedding. Friday dinner I had bean tacos, and verified that the tortillas were vegan-friendly. I even made it through breakfast and lunch the next day. I caved for dinner. Dinner was chicken that looked too tempting. To give myself more credit, it wasn't very vegan-friendly. The bok choy (which was delicious) was cooked with meat. Did I mention it was a camping wedding? Despite the fact that I brought vegan-friendly snacks, the limited choices and my appetite made me cave.
Brunch on Sunday was also not very vegetarian/vegan friendly. So, I messed up not very far into my journey. But it's a learning experience, and I'm learning how hard it is to go vegan in our culture.
On Sunday evening, my resolve was replenished. Thanks to great support and the tantalizing veggies in my fridge, I cooked a delicious, 100%-vegan meal: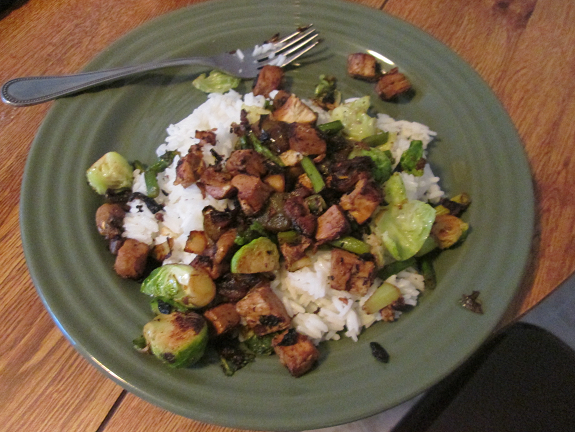 It was amazing. I stir fried asparagus, onions, mushrooms, brussel sprouts, green pepper, and vegan chicken (Beyond Meats brand). I used Liquid Aminos as a healthier alternative to soy sauce. And, I had enough leftovers for tonight's dinner as well as one more :-)
Despite obstacles this weekend, I will continue my vegan journey. It's not easy to go cold turkey (erm, tofurkey), but I'm learning a lot.

top
---
Paul's Vegan Adventures -- 31 May 2016
Friends, I've not been very active on my blog recently. With starting a new job and moving to a new city has come a different set of priorities. I've been enjoying exploring my new state and relaxing after work.
I'm back, and starting tomorrow, my long-anticipated vegan journey will begin. As I mentioned before, I will go 30 days (so the entirety of June).
I invite you to ask me about it, give me tips and encouragement, and follow along. I'll blog several times this coming month about my thoughts, insights, and above all, the delicious and healthy cuisine I enjoy.
If you're so encouraged, I'll repeat my recommendations for the documentary Cowspiracy, the book The Omnivore's Dilemna, and add a recommendation for the documentary Vegucated (still free on Hulu).

top
---
DJ PK's "Feel the Bern" mix -- 2016-03-25
Wherever you stand this election, it's pretty cool that Bernie Sanders has a spoken word album. I realized that, along with a few other songs, I could put together a "feel the Bern" playlist.


| # | Title | Artist |
| --- | --- | --- |
| 1 | We Didn't Start the Fire | Billy Joel |
| 2 | Oh Freedom (feat. Nancy Beaven, Jon Gailmor & Danny Coane) | Bernie Sanders & Thirty Vermont Artists |
| 3 | I Gotta Feeling | The Black Eyed Peas |
| 4 | Changes | David Bowie |
| 5 | 12-Year-Old Kid Wishes Bernie Sanders A Happy Birthday (Rap) | Clive Brothers on YouTube |
| 6 | The Banks of Marble (feat. Jon Gailmor, Pete R. Smith, Dick McCormack & Nancy Beaven) | Bernie Sanders & Thirty Vermont Artists |
| 7 | Revolution (fast version) | The Beatles |
| 8 | Where Have All the Flowers Gone (feat. Robert Sterzinger) | Bernie Sanders & Thirty Vermont Artists |
| 9 | it's the end of the world as we know it (and i feel fine) | R.E.M. |
| 10 | We Are Young (Feat. Janelle Monae) | Fun. |
| 11 | All You Need Is Love | The Beatles |
| 12 | This Land Is Your Land (feat. Jon Gailmor, Dick McCormack & Nancy Beaven) | Bernie Sanders & Thirty Vermont Artists |
| 13 | We've Got To Do Something | Infant Sorrow (Forgetting Sarah Marshall) |
| 14 | I Won't Back Down | Tom Petty & The Heartbreakers |
| 15 | Wavin' Flag (ft. will.i.am, David Guetta) | K'Naan |
| 16 | I'm Just a Bill | Schoolhouse Rock |
| 17 | We Shall Overcome | Bernie Sanders & Thirty Vermont Artists |
| 18 | Power To The People | John Lennon |
| 19 | We're Not Gonna Take It | Twisted Sister |
| 20 | Let's Get It Started | The Black Eyed Peas |
I considered including Green Day's "American Idiot", but I figured that might be a better song for a different candidate.
"Don't Stop Believin'" and Boston's "More than a feeling" also didn't make the cut.
I had fun making this. If I get positive feedback, DJ PK will consider posting more mix CD playlists in the future.

top
---
Simulating "Polish poker" -- 2016-03-01
I was recently introduced to the card game Polish poker, also known as golf. Over the weekend, I taught it to a couple of friends.
When we were playing, the question "what is the average score?" came up. Specifically, what is the average score if you are dealt six cards and then flip them, without playing at all.
As the aforelinked Wikipedia article mentions, there are many scoring styles. We played that the number cards have their values, Aces and Jacks give one point, Queens give two, Kings give zero, and Jokers give negative three. After 100,000 simulations using R, the average was 23.65.
Here's a historgram of the scores: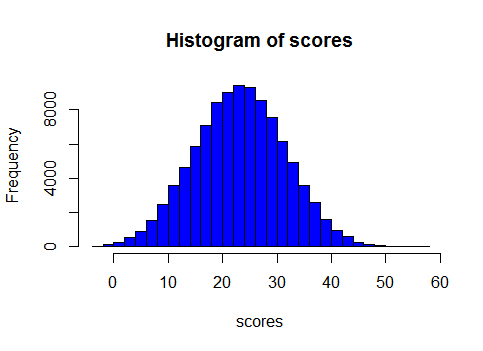 The code I wrote is available on GitHub. Feel free to play around with it!

top
---
Another post about Tanzania -- 2016-02-28
This past week, I gave three presentations about my experiences in Tanzania. The first was at a lunch hosted by the local chapter of Rotary International. They gave me a scholarship when I first started at Marquette, so they invited me back to talk after hearing about my trip.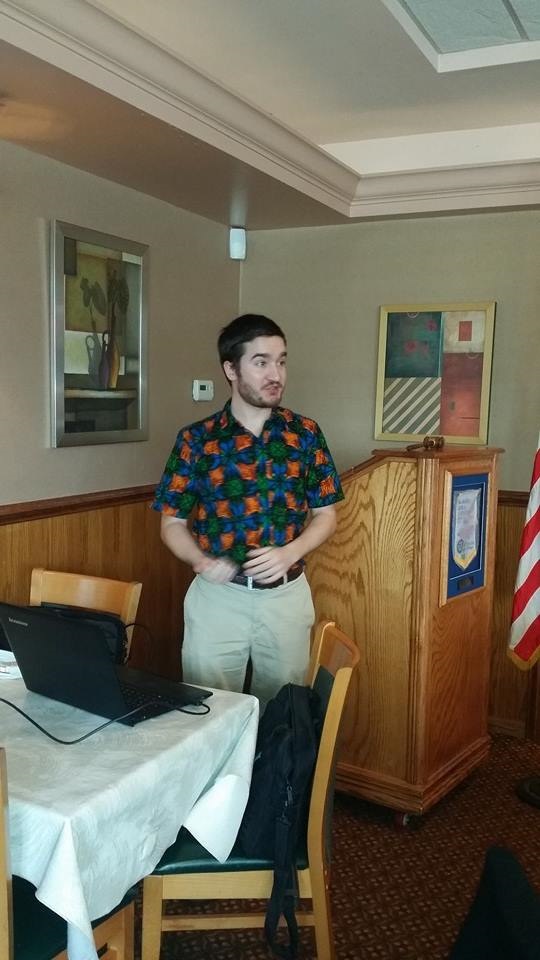 The second presentation was to Engineers Without Borders Marquette. As you may know, I traveled with them to Guatemala for a service project back in 2010. It was wonderful to see many familiar faces in this crowd, and it was perhaps easiest to relate to them, having been in their position not too long ago. I was able to talk to their potential interest to go abroad, and shared with them a link to my new travel abroad page.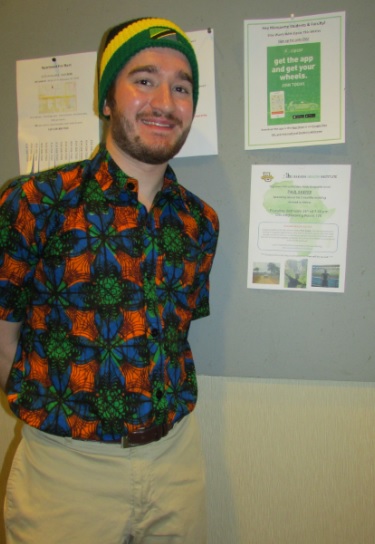 The third audience was undeniably the cutest, and asked the most questions. This was my brother's third grade class. They were very attentive and curious, and enjoyed hearing many stories. There is no question that children are our future. I hope that they get many chances to visit other countries and meet people from cultures different from their own so we may live in a future with less bigotry and injustice.
If I counted right, the sum of the three audiences was 71 people! Thank you to all who shared their time with me this week. I hope you enjoyed my presentations, and maybe even learned something from them. (And for the record: yes, I am happy to give another talk somewhere, if invited.)

top
---
Long time no see -- 2016-02-16
Hello, friends. I apologize for not having posted in a while, which is entirely due to the fact that I'm no longer in a foreign country. I've had a very enjoyable 46-and-counting first days of the new year. Let me tell you a little about it.
I've visited Chicago, Milwaukee, and Minneapolis. Each have entailed their own adventures. I've read several great books. The African Child by Camara Laye was a great story that didn't take long to read; I learned a bit about the culture of Guinea, an African country far from Tanzania. It was neat to read theThe Omnivore's Dilemma, which has opened my eyes more about the food we eat and what we don't know about it. I still intend to do the 30-day vegan challenge, probably in summer when I can frequent farmer's markets. This weekend, I read Turn Right at Machu Picchu, which makes me really want to visit Peru.
I'm going to post somewhat irregularly from now on. My goal is two posts a month. As I'm no longer in Africa, it won't be so much about adventures in a foreign country so much as adventures through life.
I plan to muse about books, movies, games, and articles. I'll post to Facebook, but let me know if you want to be on the email list. I'm willing to create an RSS feed if more people would find it useful (and tell me).

top
---
First two weeks back at home -- 4 January 2016
I've been back in the United States for exactly two weeks. Almost to the minute. The end of my trip was a great success; Zanzibar was a fun, relaxing holiday. I did get on the foot bit by something on the beach, which meant I was limping and in a bit of pain the remainder of my time and throughout the return voyage. Fortunately, we have a great healthcare system in the US that gave me an antibiotic for the infection and swelling.
Zanzibar was touristy, which meant that my Swahili was better than most travelers. This meant I could bargain and of course impress new friends. One waiter said he was surprised to only have met five African Americans in his five years working on Zanzibar. While there were many tourists, Zanzibar is definitely a place that more people should visit. I stayed at a very nice hotel with a great beach and nice pool that was very reasonable compared to what a typical American resort would cost.
Being back has been interesting. There is definitely a reverse culture shock that, like most mental health phenomena, is often overlooked. So many things look different to me, even though I am "home" and have grown up with them. In addition to the medical insurance that covered my antibiotics, and of course the money shock (a "cheap" lunch here could easily be the cost of a week's worth of lunches in Ifakara), I've realized that many of the simple pleasures here are real luxuries. Almost half the world lives on less than a dollar a day.[1]
I've really been enjoying the family and friends who have shown an interest in my trip. I am more than happy to tell many stories about the good and bad things I've experienced and seen. I look forward to catching up with many friends I haven't yet seen since coming back.
I feel it's fitting to mention my new year's resolution, as it was influenced by several things on my trip. I have decided to, at some point this year, go 30 days straight as a vegan. In addition to the health benefits,[2] I watched an informative documentary called Cowspiracy[3] that has been making me question many things about what we eat and drink. As I've enjoyed posting about some of the delicious tastes of Tanzania, I will continue blogging when I decide my starting date for this "experiment."

top
---
Last days of my trip -- 15 December 2015
My trip is nearing the end. Today, we drove to Dar es Salaam. One of my friends will be doing experiments here, and another friend is traveling for Christmas, so we all shared the ride. I fly out in five days, so I thought it would be good to make the long journey from Ifakara to Dar sooner rather than later.
It was not easy to leave Ifakara. I have made many friends in my months here. I also got to know the town a bit, so I knew I wouldn't be seeing many of the places for a while as we passed them on the road.
The reason I haven't blogged in the past couple of weeks is that it's been jam-packed (and when it wasn't busy, I was tired, as it's been hot!). There was a party for my going away, a Christmas party where we did secret santa and shared dishes from nine different countries, a wedding, and of course I've been enjoying time by the pool and figuring out who to give away all the things I have left that I won't bring home.
That last couple of workshops were enjoyable. I shared some resources, both for statistics and English/scientific writing.
On Monday, I gave a presentation on my experience. I shared my thoughts and observations, including some suggestions. After all, I've had experience from my research at GasDay, as well as a couple of internships. I'm realizing that part of the value of [international] experience is that you take things with you from place to place.
I spent a good part of the car ride today nodding off. It was exciting to see animals close to the road (there was a giraffe eating about ten feet away), and fun to wave at kids. I reminisced about my time, and thought ahead to the next few days.
Tomorrow, I will go to Zanzibar. I will be sure to take pictures :-)

top
---
The first Thanksgiving of Ifakara -- 28 November 2015
This past Thursday, I organized the first Thanksgiving in Ifakara, Tanzania. My friend Lina helped a lot, as she studied in the USA and celebrated Thanksgiving with her host family.
Since it's an American holiday, we invited about 20 friends, from all over the globe: Tanzania, Germany, Kenya, Switzerland, Spain, Italy, England, Tonga, Australia, Brazil, and America (I was the only one raised in America). It's not a holiday here, so we had to have dinner after work. We celebrated next to the pool, which turned out to be a terrific venue. It was dusk, though, so I didn't get a good group picture. Don't worry: food pictures below!
I stood up and explained the story of the first Thanksgiving, and talked about how we celebrate today. We then did my favorite Thanksgiving tradition by going around the table, and each person said what they are thankful for. I am very thankful for many friends here sharing their culture, language, and food, and am thankful I got the chance to share some of my traditions as well.
...and of course, we ate LOTS of good food! There was a fruit salad, a veggie salad, a pasta salad. There was a BIG pot of mashed potatoes, which is not typically how potatoes are consumed here. I particularly like the pumpkin leaves, which when cooked look like cooked spinach. There were beans, cooked with coconut milk. We ate most of four chickens, since one cannot find a turkey without going on a bit of a road trip. Two were baked, and two were cooked in a stew.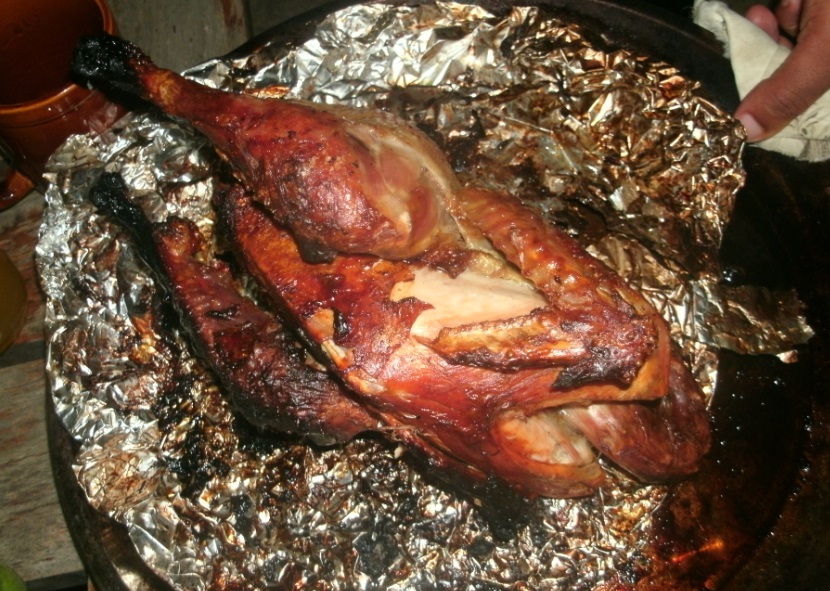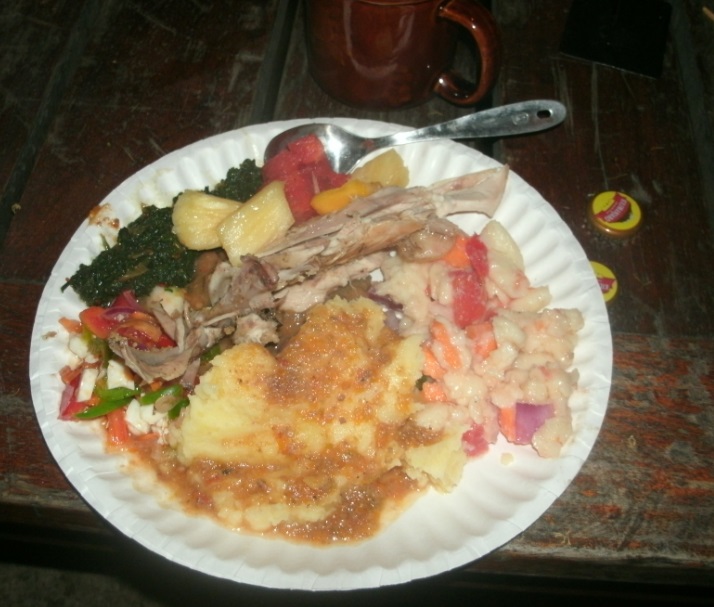 One of the baked chickens -- my plate (the first of two or three ;-)
The drinks and deserts were fantastic. There was hibiscus juice, ginger/pineapple juice, soda, beer, and a bottle of wine. For desert, I baked an oatmeal cookie mix I brought from home. We also enjoyed fantastic pumpkin pie (I'm eating a leftover piece as I write this) and pineapple upside-down cake. Last but not least was a delicious passion cream.
I meant to write this post Thursday evening, but by the time we finished and I called to wish my family a happy Thanksgiving, I just wanted to sleep. Yesterday, I spent most of the day at a preschool graduation. 104 children were graduating! They sang songs, showed off their spelling skills, conducted a play, and we had more delicious food at the lunch.
Today I played soccer barefoot, as most of the children usually do. So all in all, it's been a fantastic week, and I'm thankful to have a relaxing weekend to blog a bit and hang out in the pool.

top
---
Good times, bad times -- 17 November 2015
On Sunday, I had lunch with my friend Mwavita, who runs a local bar. She's really friendly and funny, and always gets excited when I walk by or stop by for a soda or a beer. We've been meaning to have lunch for a while now, as she has wanted me to come meet her mother. Finally, Sunday worked for both of us. I brought a watermelon, and she made rice with meat and mchicha. It was a really nice experience, because I know she was happy to invite me over. I'm going to print the picture we took to give her, because when I visited a few weeks ago, she showed me a whole bunch of pictures from weddings and one of her daughter's birthday parties.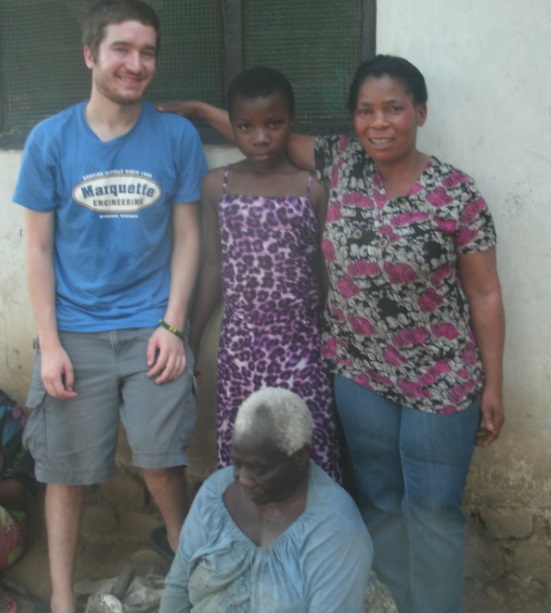 Yesterday, I went to a funeral. It was for the hospitalized man I mentioned previously. His name was Italy, and he worked with some of the researchers at the IHI. 14 of us packed into one of several cars that was leaving from the office. It was about a two hour drive, a bit farther away than the park with the waterfalls that I've mentioned previously. When we arrived, it was raining, so we waited outside under a makeshift tent for a while. Then we processed to the burial. It was really sad when his wife was crying, and because the church wouldn't do an official service since he wasn't officially married. But it was nice to see a really big turnout, and lots of beautiful flowers laid on his grave. I thought this photo was worthy of sharing, and can also serve as a tribute to a man who died too soon. The MC said "leo mimi, kesho wewe," meaning "today me, tomorrow you." It was his closing message saying that we should treat each other well and do good, because we'll each have our day.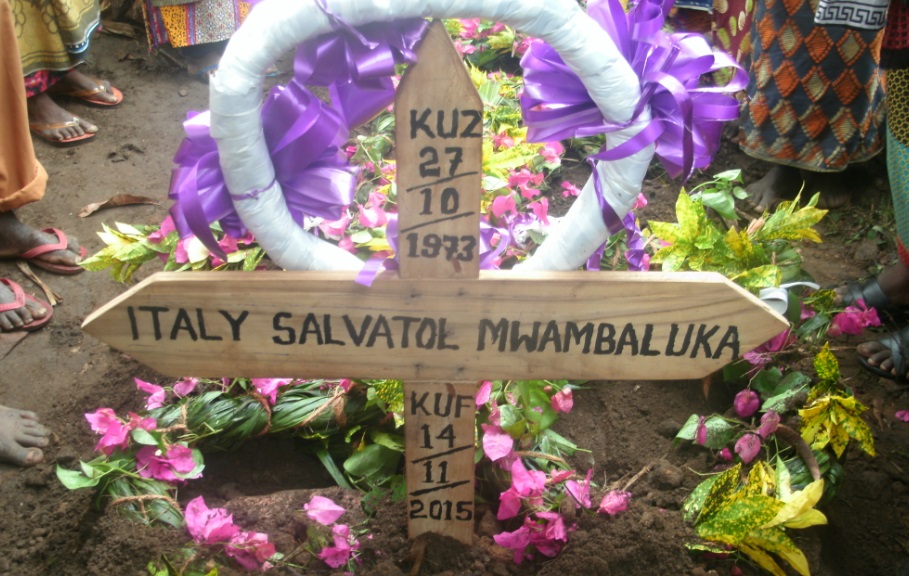 I know that's a bit of a sad note, so I'll end today's post with a cute animal picture. Here's the frog that I evicted from his home in the overflow drain of my bathroom sink because he pooped on my soap container.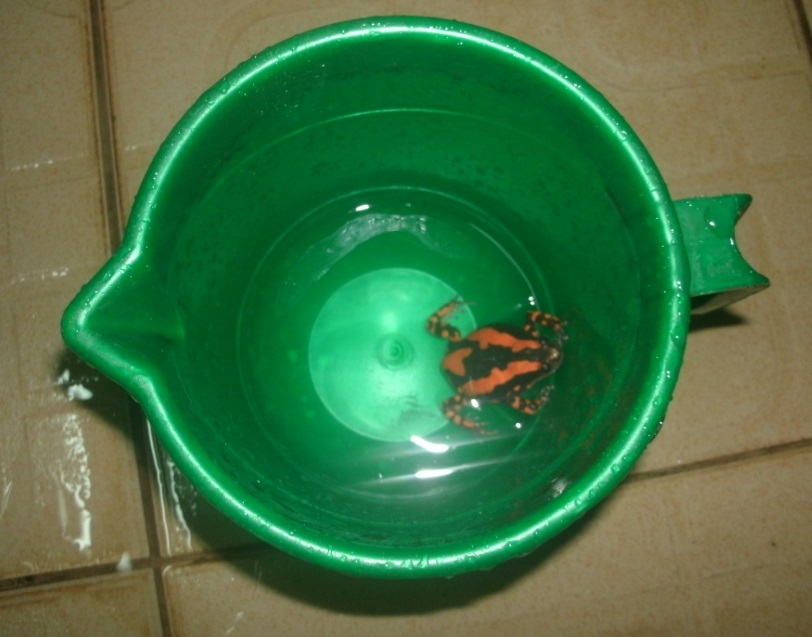 top
---
Friday in Ifakara -- 13 November 2015
Yesterday, I had crepes and scrambled eggs for breakfast.
Today, I had vitumbuu, which are sweet rice buns. I prefer sambusas (which are called samosas elsewhere). Sometimes they have minced meat. The best ones have either carrots and peas, or potato inside.
We've had a few of days and night of rain in the past couple of weeks. They said it was the "short rainy season," which results in lots of mangoes, pumpkins, and other crops. It was really pretty when it rained. There was even a little thunder, which seemed deeper than back home, but without lightning.
I finally have been successful at getting an avocado pit to sprout. I've tried about six in the past months. This one is doing better than all of the past attempts combined. I plan to put it in dirt this weekend.
Last week, I organized a CV writing workshop with one of my friends here. It was very well attended. This morning, I led my weekly statistics workshop. We focused on fitting linear regression models in both R and Excel. It went really well. I'm happy to say there was some good discussion, and everyone seemed to understand how to do it.
It's really interesting to go through the experience of teaching. I prepare content, usually including slides and activities. Classes never go as planned, but often it's sidetracks due to interest in a particular topic or someone asking about something that I thought might take just a minute or two to explain. It's really making me think about what I want to do next.
Today's hot and sunny. That's one thing I don't miss about Novembers in the Midwest. It's also definitely a Friday. I don't feel like doing most of the things on my to-do list. Writing this post has been a nice break!
It's surreal to think I only have 37 days left in Tanzania. While there are certainly things I miss from home (mostly people), I'm not ready to leave yet. I'm learning so much and have some very good friends here. I look forward to more fun times. Tutaonana baadae!

top
---
Life's not all fun and adventures -- 5 November 2015
So it hasn't been all fun and adventures here. I hope you can see from my previous posts that I truly am having a wonderful time and have made many friends here. I hope you also see that the impression the American media gives you about Africa as a whole does not tell the full story. It does not illustrate the fact that it is a beautiful continent, filled with beautiful and friendly people, landscapes, animals, and lots of natural foods (i.e., no GMOs, etc.). And I can say that having only visited one country here (so far).
That said, there is certainly poverty in Tanzania. It's been very difficult for me to understand, primarily because of the enormous wealth where I come from. I typically live on less than the equivalent of 5 USD a day and pay the woman who cleans my house much less than is minimum wage in the US. In other words, someone with a little savings back home can be "rich" here. There really are many people who live on less than a dollar a day in our world. Of course, the cost of living here is less, but it's still not at all fair the disparity that exists between life here and the life of literally everyone I know back home.
There are two specific things that sadden me most about Ifakara. One is the state of the hospitals. I've visited a friend of a friend twice in the past week. This person helps with some of the projects at the IHI. This person was recovering from a tumor that had been removed. Well, that's only a small part of the story. The tumor had been removed without using any form of anesthetic. And I don't know the whole story, but neither did this person. The doctors had thought there was one tumor, but there was more than that. This person still doesn't know how bad they have it. (UPDATE: it's been diagnosed as fournier gangrene, which is a rather unpleasant thing) And they're really struggling to come up with money so their family can bring them the food and medicine they need. Food and medicine that cost so little compared to even minimum wage in the United States.
Many of the hospitals here don't have the equipment we take for granted back home. They don't even have the basic medicines (like anesthetics) that would cause public outrage and lawsuits if they weren't in stock back home. Pregnant women are even expected to bring gloves and a razor when they go in to give birth.
The second thing that really breaks my heart is that there is no public library here in Ifakara. They're everywhere back home. In addition to providing books for leisure, they provide great references for learning, as well as educational services. Many people here spend lots of time waiting, for the hospital or for business. They could spend some of that time reading, perhaps. And if more people here could access the internet, they would be able to better inform themselves of news and politics, as well as have access to so much information.
So where do we go from here? By "we," I mean "the people here," but it's silly to ignore the fact that I'm also human. We're all in this together. I have to give credit to one of my best friends here for talking a little bit about some of the frustrating things, since my blog is full of fun stories and adventures. I hope this can help you see that many of our fellow humans are suffering from a lack of things that are plentiful in "developed" countries. Maybe we can better appreciate what we have, and learn to share.

top
---
Cars and pumpkins -- 31 October 2015
This post, I'll talk about a research project I did here in Tanzania. It doesn't relate to mosquitoes or malaria, but I used it as an example of how me, a math guy, thinks about research and data visualization. It was a fun example that I presented during one of my statistics workshops. Rather than explaining in words, check out the first "Infographic" that I made. You can click it for an expanded view.


Oh yeah, today's Halloween! While there is witchcraft to be found in some places, this isn't a holiday that people celebrate. However, I expect a group of about 30 kids to come trick-or-treating later today.
Here are two of the things I have at my house. Don't worry, I got much more candy to make it as much like back home as I'm used to.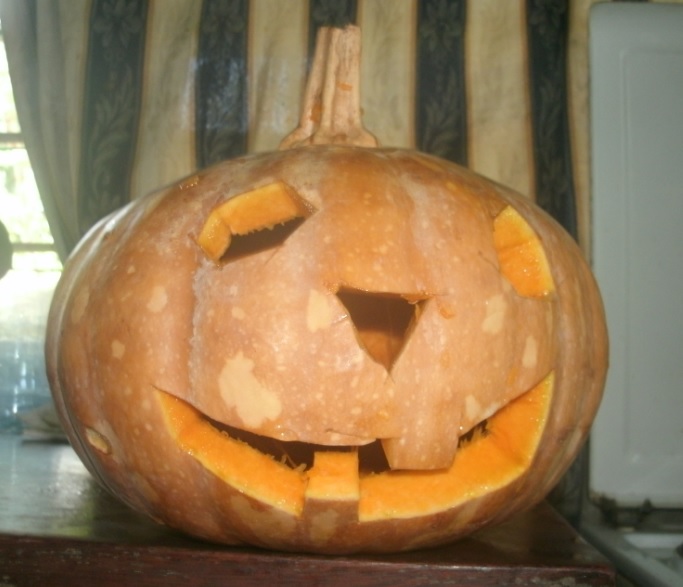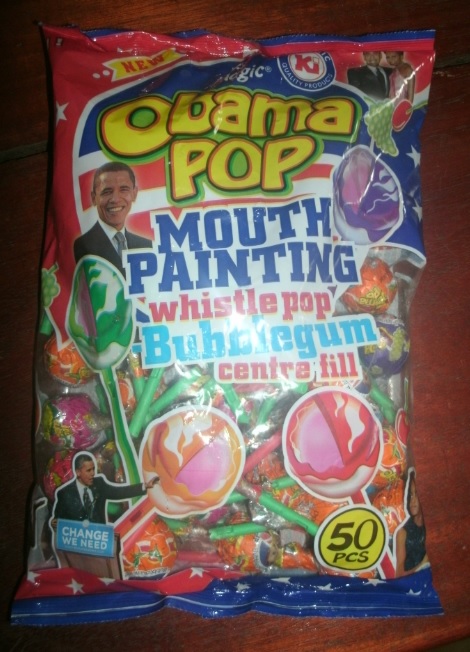 I decided that for NaNoWriMo, I will continue writing a blog post a week. So thank you all for your continued support!

top
---
100 days in TZ -- 23 October 2015
Today's my hundreth day in Tanzania. I had planned to do a post about a statistics experiment I conducted recently, but to mark this special occasion, I've decided just to write a few things that I've been thinking about or doing.
This weekend is an exciting time for Tanzania. The elections are Sunday. For the first time in Tanzania's about-50-years of independence, a political party other than the one that's had power has a serious chance of winning the presidency. Since I've been here, I have heard various political conversations. It's definitely been picking up as the election looms. Today I saw more flags hanging up from both parties, and heard quite a bit of political chatter when I biked through town. The current president is actually in Ifakara today. I would very much enjoy the chance to see him, but I'm not sure I want to be near that many people at a political event, since this isn't my home country (and I'm not comfortable enough with my Swahili).
The one thing I want to say about being in a foreign country during elections is that it's making me realize some of the silly things that are true in politics back home. My experiences are definitely changing the way I think. I'm learning about the ways that countries affect each other.
---
On Tuesday, I think we had the best session of my English course. We each gave a presentation on a role model. I learned about Abebe Bikila, the first Sub-Saharan African to get a gold medal in the Olympics. He was an Ethiopian (I hear the fastest runners are from there), and amazingly, he ran barefoot. In the Olympics.
One of my friends talked about Malala, which was cool because I'm reading I am Malala. The others were fantastic, too. I wrote about them in my journal.
There's something special about the first warm day after winter in the Midwest. I tend to forget all about the harsh, cold weather from the previous six months, and for the past 20 years I've spent in school, yearn to have class outside. I finally did; we had the aforementioned class aside the swimming pool. I'm the teacher, so I got to decide it. Plus, our usual room was being used. And yes, it was as amazing as it sounds.
This morning, I led my weekly statistics workshop. I gave a presentation on modeling, which was cool, because that's a large part of my Master's thesis.
The past mia moja (100) days have been pretty great. I've made friends, had many adventures, and learned a heck of a lot. I'm very much looking forward to my remaining 57 in Tanzania.

top
---
Food, Glorious Food! -- 15 October 2015
This post has been about two months in the making. I'm very excited to share some pictures and stories about various foods I've learned to cook. Contrary to what some might think, Tanzania has really good food. Sometimes it requires a little extra searching, cooking it yourself, or growing it in a garden.
The first thing I really made on my own was kachumbari, which really just means "salad." I haven't seen much lettuce here, so generally the kachumbari is tomato- or cabbage-based. I made mine with parachichi (avocado) since they're much cheaper than the ones sold by monopolies in the USA.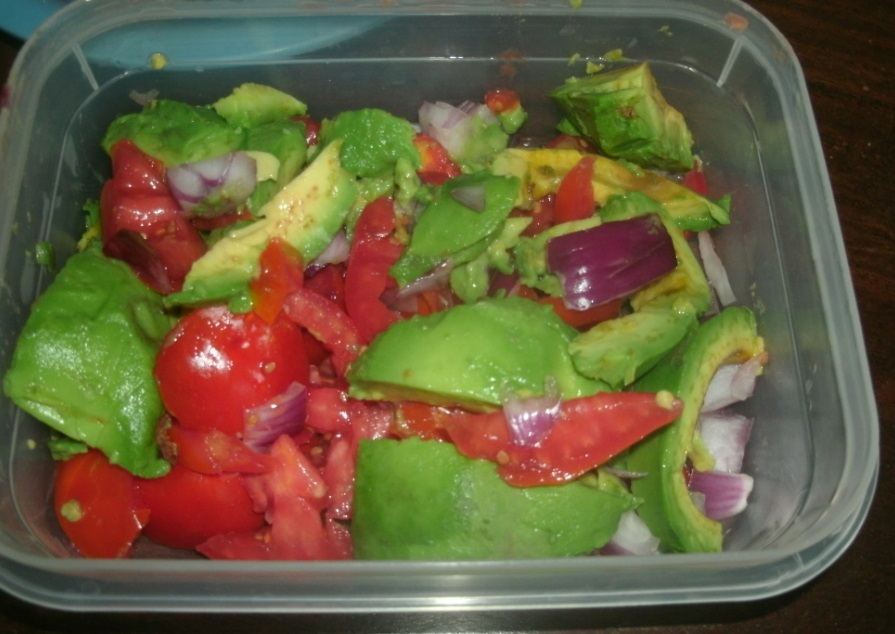 It was delicious and very fresh. Guaranteed no GMOs! I decided I would definitely be buying more fresh fruits and vegetables from then on out.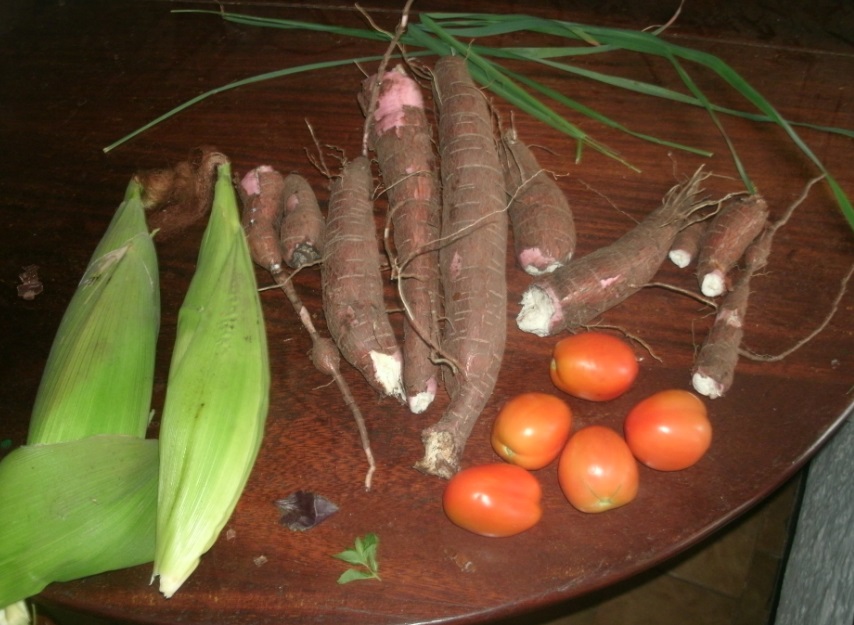 My friend and colleague Fredros enjoys sharing fruits and vegetables from his garden. The big brown things are cassava/manioc/tapioca. It's starchy and kind of like potato. You have to remove the brown part, as it potentially contains cyanide. Then you can boil the inside. The grass is lemon grass, which makes a nice tea.
The other pictured veggies were some of the things used when I made salsa for the first time. The only substitution was pili pili (a.k.a. piri piri) instead of jalapeños.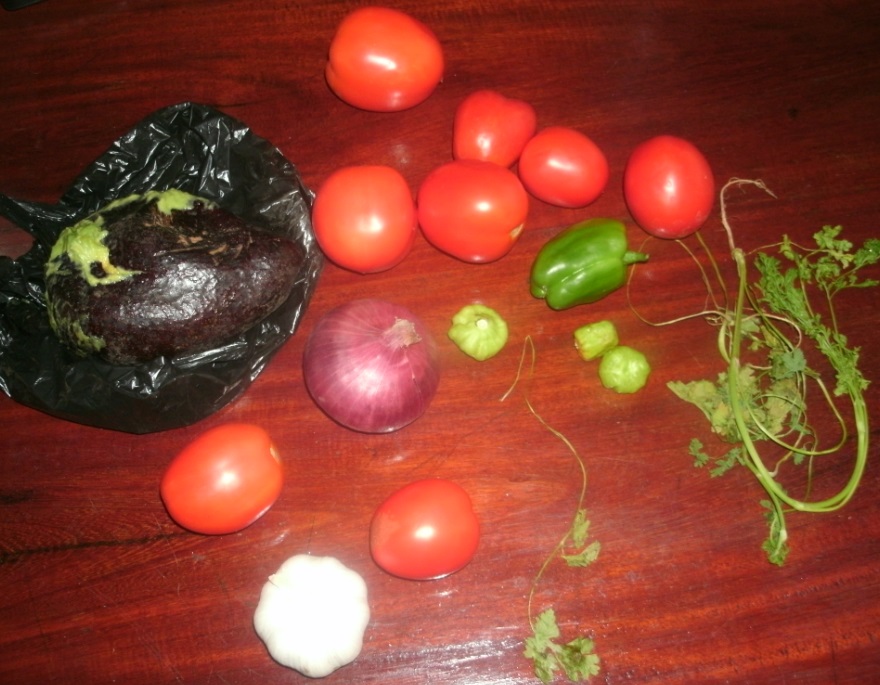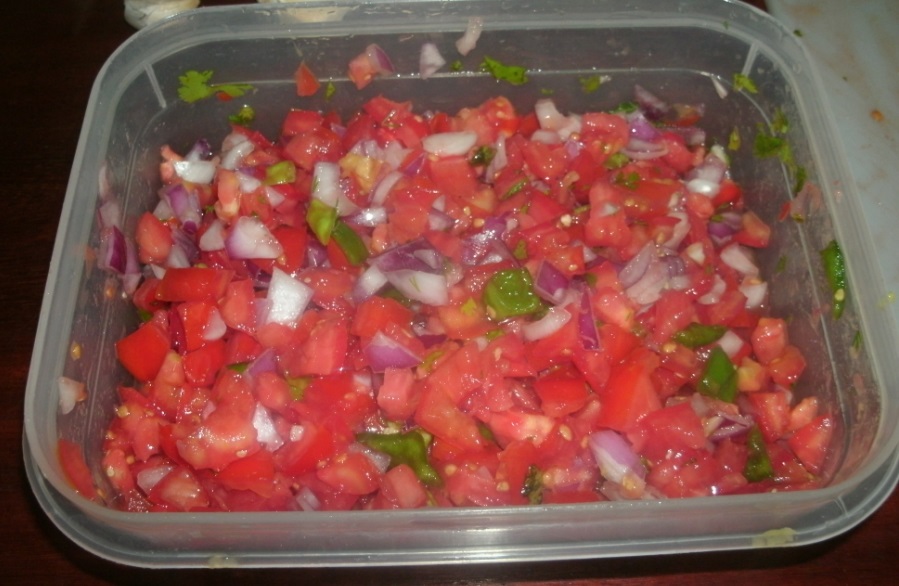 Salsa: before and after. I also added avocado, but this picture looks better.
Oh yeah, here's some proof that it was actually me doing the work: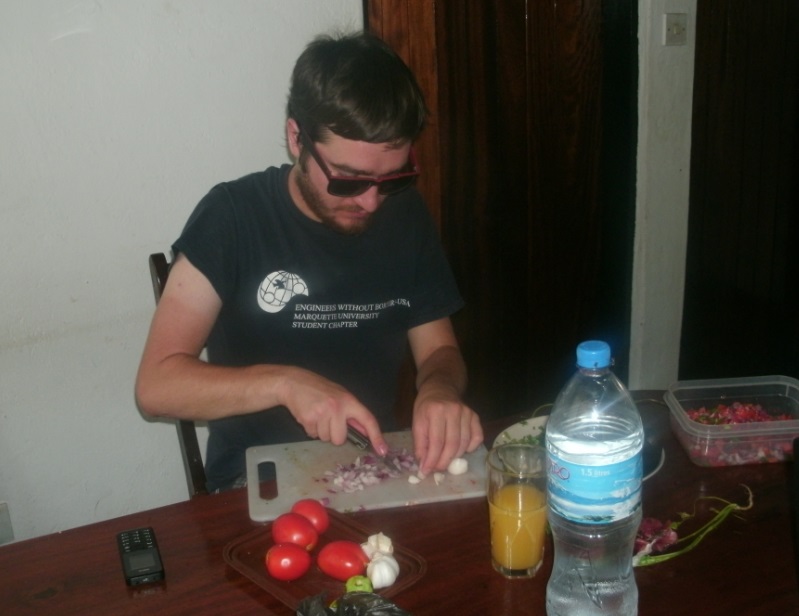 The sunglasses help prevent me from crying while cutting onions. They also just look cool.
We also made chapatis (round, flat bread kind of like tortillas) and matoke (stew of beans, corn, and potatoes) to eat with the salsa. Tamu sana (delicious)! Here's a picture of me learning to make chapatis a different time. They are delicious to eat with chicken soup!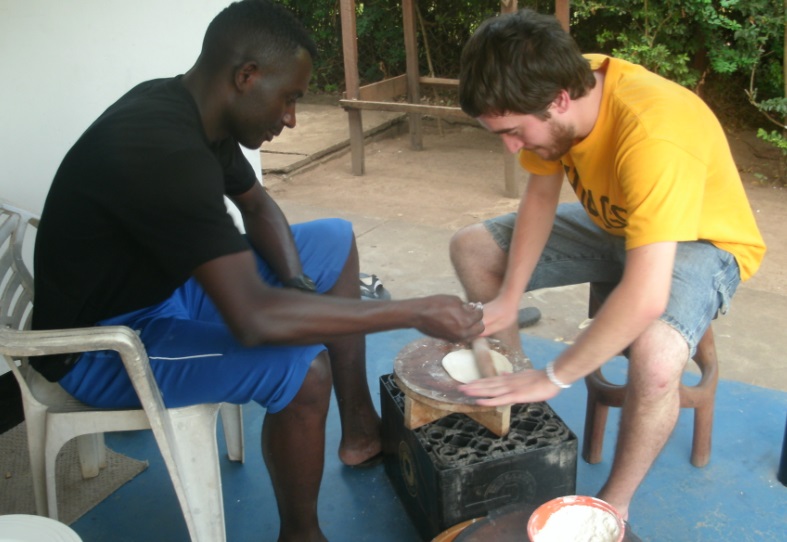 Chapatis are something that I plan to make back home, too.
Two weeks ago, I was so excited to finally learn to cook dagaa, a dish of small fishes (which I think we would call "sardines" back home). It was really fun to learn (thanks, Doreen!). Here are some of the pictures of progress: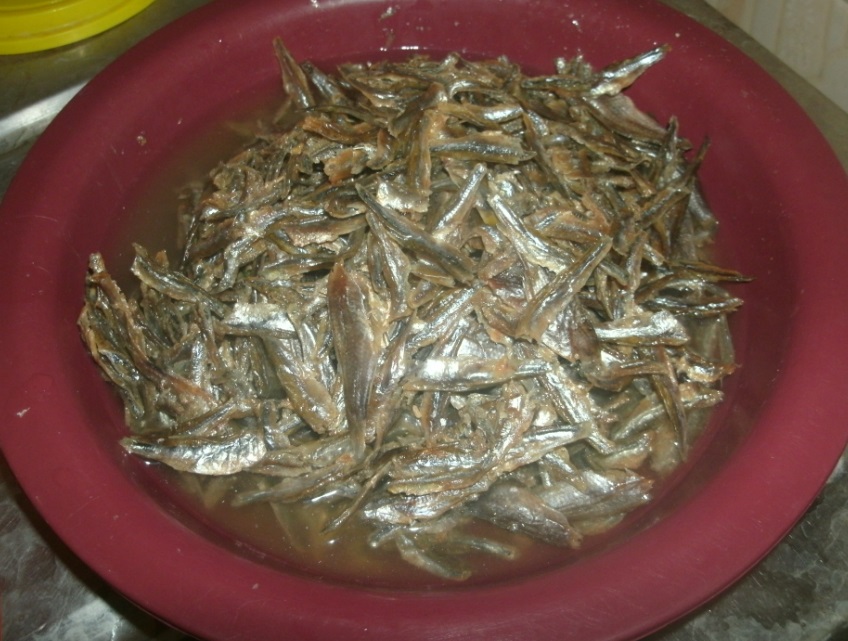 The tiny fish to be cooked.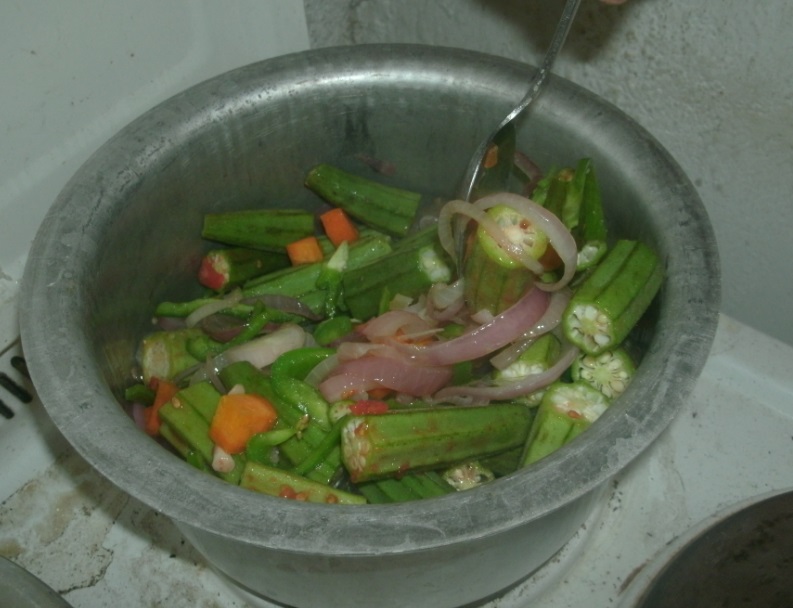 I've become a big fan of okra.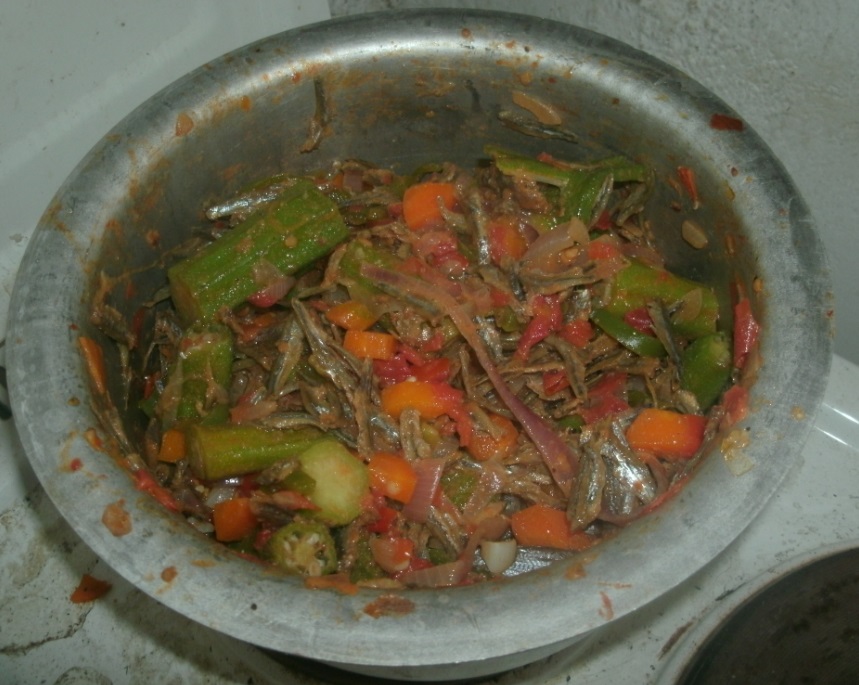 Cooking the vegetables and the fish.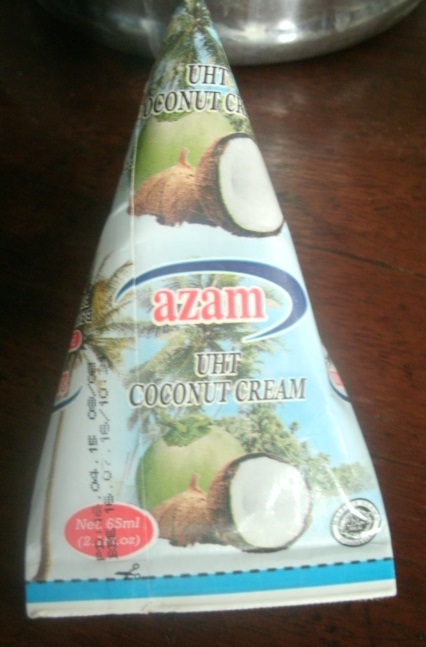 The secret ingredient: coconut milk!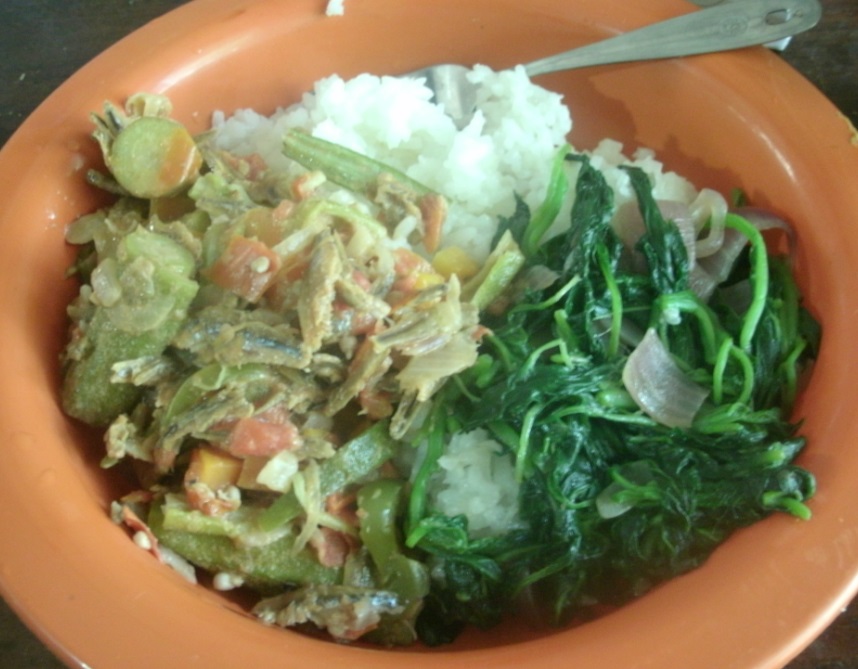 The end result. The green, leafy vegetable is mchicha, which is like spinach.

I felt cruel when I beheaded the hundreds of fishes, despite the fact I knew they were already dead. There was also some sand in my food, despite the fact that we cleaned the dagaa several times before cooking it. These two things are making vegetarianism look more and more appealing. Of course, mishikaki (grilled meat on a stick) and the meat marinated in ginger sauce that I helped barbecue when we went camping are too tasty to give up. So I remain an omnivore for the time being. Yesterday, I had the best meal I've had in Tanzania: minestrone soup! Part of what made it so good was I did all the shopping (entirely in Kiswahili) and preparations myself. I do have to thank my mom for the recipe, which required only a few improvizations. Here's my shopping haul from the market yesterday. It doesn't include the celery, cheese, rosemary, and meat I picked up last week in Dar es Salaam.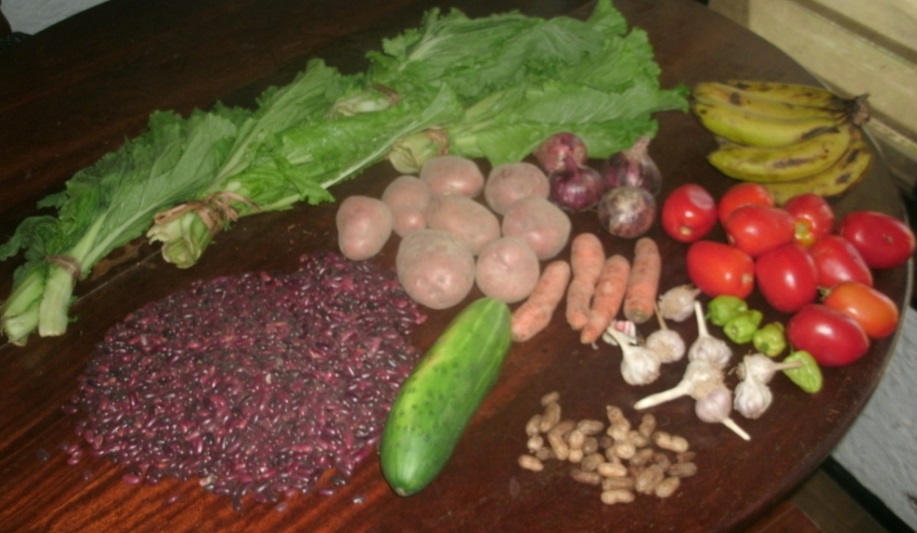 | | |
| --- | --- |
| Item | Cost (Tsh) |
| 1 kg beans | 2,500 |
| 1 cucumber | 500 |
| 4x Swiss chard ("spinachi") bundles | 800 |
| 4x carrots | 800 |
| 8x garlic | 800 |
| peanuts (picture depicts half the bunch, since I shared some with some children I'm friends with) | 200 |
| pili pili | 100 for 3 (but she gave me four) |
| tomatoes at 500 for a group of four | 1,500 total |
| bananas (not for the soup) at 100 each | 900 |
| potatoes at 500 for a group of four | 1000 total |
| onions | 500 for the four |
If I counted this right, and got all the prices straight, I bought this table of food for 9,600 Tshillings (Tanzanian shillings), which is less than five USD. Take that, Gwyneth Paltrow!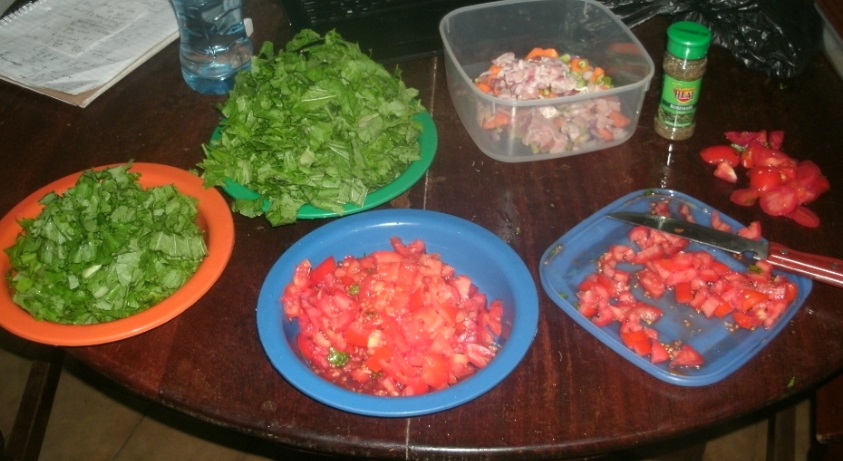 Chopped minestrone ingredients.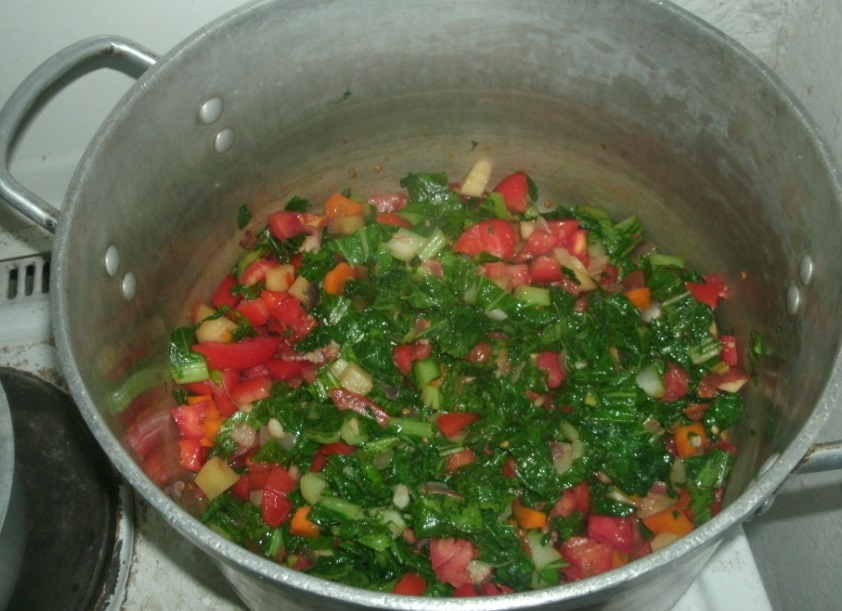 Simmering the veggies.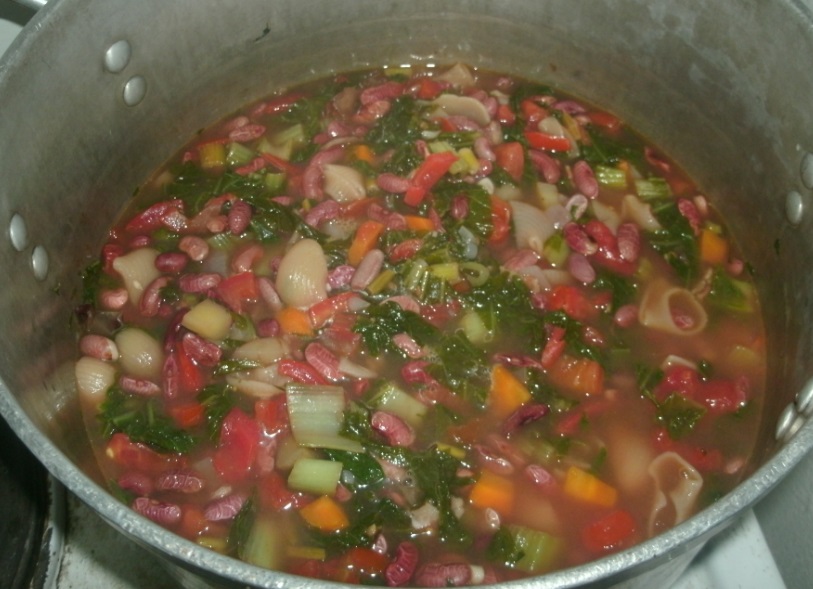 It looked and smelled so good!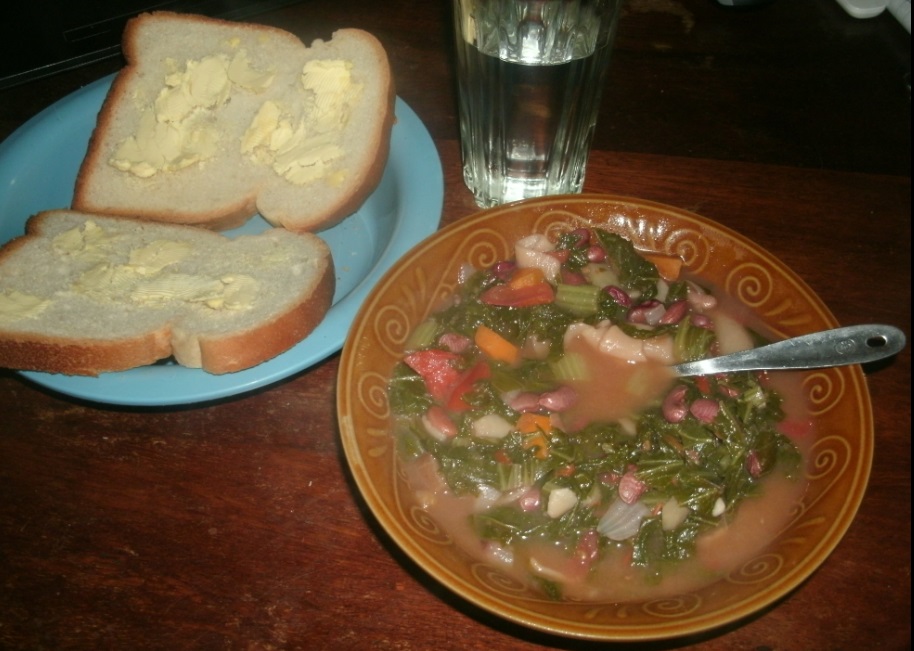 A delicious, home-cooked meal!
I've also had cheese, as one shop in Ifakara sells cheddar. I made hot chocolate for the first time a couple days ago (I usually make tea). When we went to Dar es Salaam, we had waffles for breakfast one of the days.
Otherwise, I usually have a simple breakfast: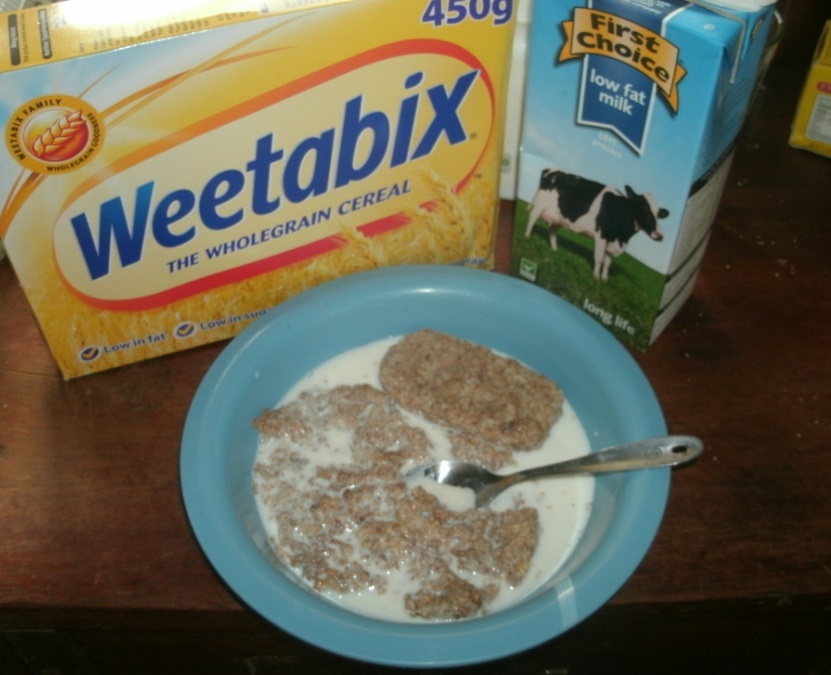 one of my simple breakfasts is Weetabix, a cereal that comes in big pieces that break up really nicely in milk.
I hope I will get a chance to eat something from my growing garden before I leave. One of the watermelon vines is growing particularly fast!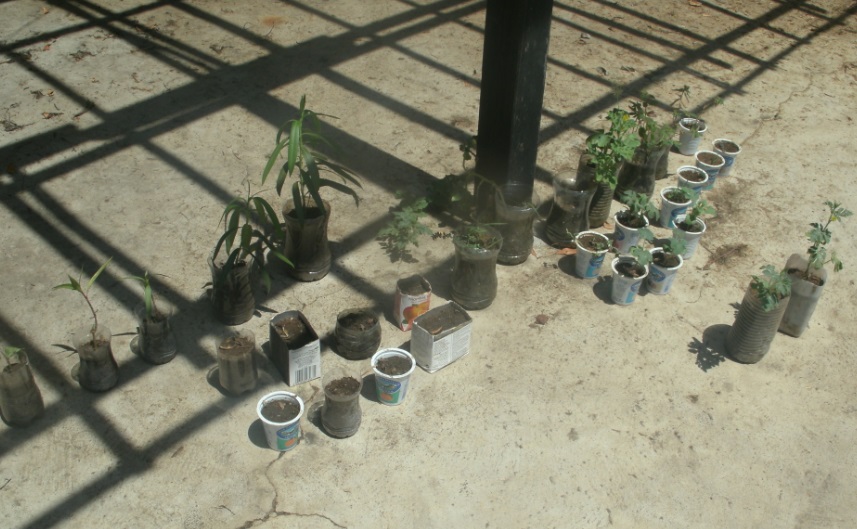 To end this post, I will share a picture of something I didn't make, but enjoyed. It was caramel cream, which I decided to call Flanzania: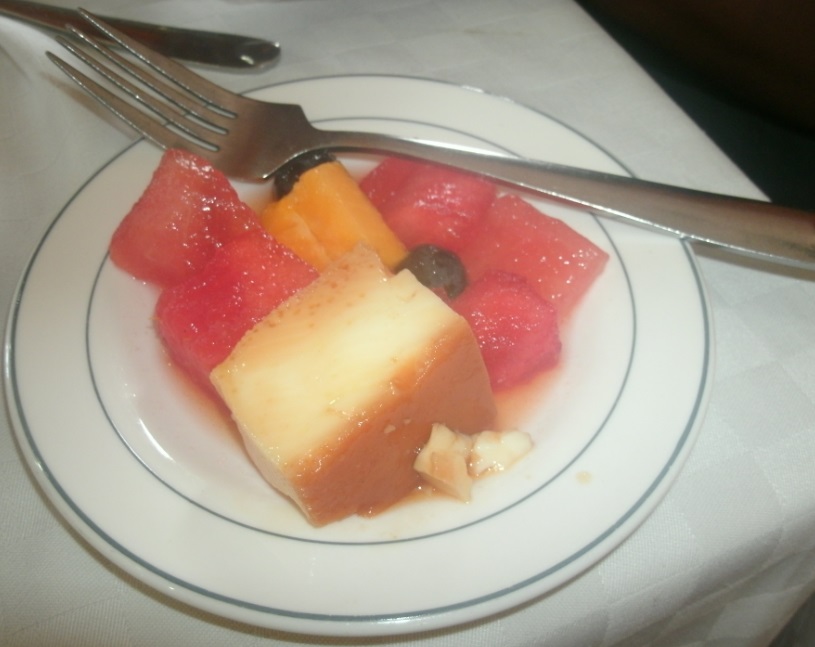 top
---
Paul's Africadventures -- 10 October 2015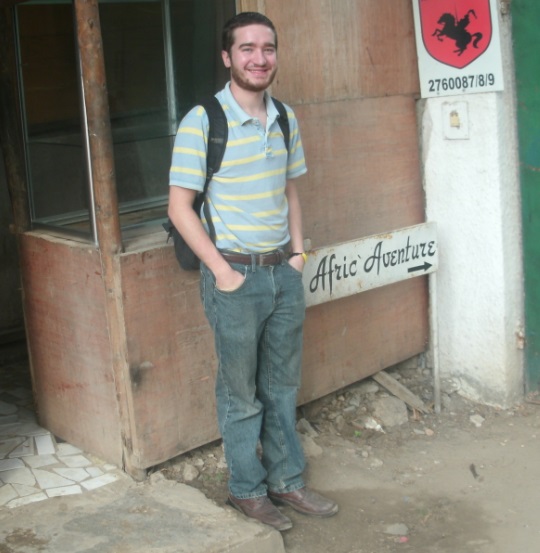 This week, we traveled to Dar es Salaam for a conference. On Monday and Friday, we embarked on the eight-hour car ride, part of which is on unpaved roads, and part of which is through Mikumi National Park. So once again, I saw giraffes, elephants, zebras, and gazelles in the wild. And baboons on the side of the road. It was fun to make the trip now that I have friends with me, and now that I know enough Swahili to make small conversations and purchase things.
The conference was put on by PAMCA, an AWESOME organization I am now proud to be a member of. There were scientists from countries across the continent of Africa. Thus, presentations were done in English, and I even understood them because I now know a bit of the language of entomology/vector research.
On Wednesday we took piki piki (motorcycle) from the hotel to the conference. It was the most terrifying rollercoaster ride of my life. We weaved in and out of the intense traffic, and even went through a street that had about six inches of water in it. Somehow my pants remained dry. The scariest part was when the driver drove us up on a curb/sidewalk for a shortcut. My knuckles were white[r than normal] after I disembarked.
In addition to meeting many interesting people at the conference, I was happy to pick up some things in Dar that aren't available in Ifakara. Namely, kiwi fruit, celery, and books. I bought a book of vitendawili (riddles). Yes, I'm learning to be punny in Kiswahili, too.
On the ride back yesterday, I finished a great book, The White Masai. It's about a Swiss woman who decides to live in Kenya after falling in love with a Masai man. It was a great read, and I could really picture many of the things that happen. Thanks to my friend Andrea for the recommendation!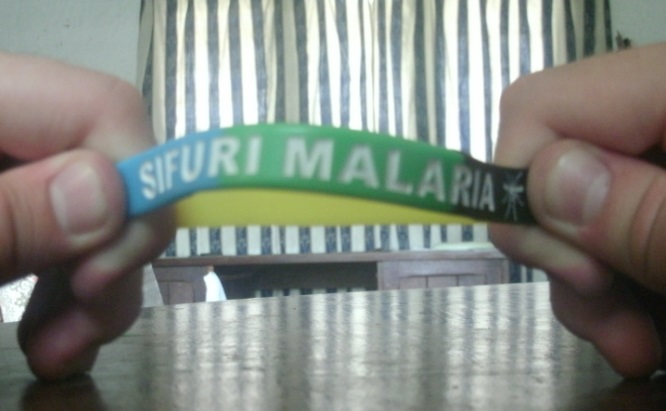 Here's to the great work of everyone involved in PAMCA and the elimination of malaria!
top
---
Life is good today -- 3 October 2015

My bracelet from a young friend. It's nice to read the message daily.
I've been quite busy since my last post. My English course is in full swing, and I am still leading weekly statistics workshops. In addition to those, I have open office hours more-or-less all day during the week. Sometimes I even go in to the office on weekends!
Last Saturday, I went to my second, third, fourth, and fifth weddings in Tanzania! I was invited to one, but it turned out four couples were wed during the same ceremony. I only went to one reception, but it was very fun. They even served fish fillets!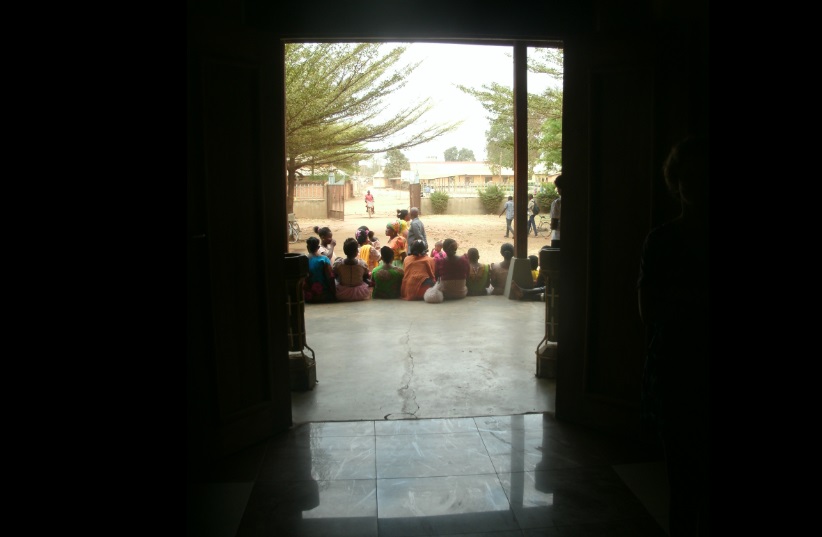 "artsy" picture I took through the church door before the service
I visited Udzungwa Falls again. This time we camped and swam in one of the waterfalls! After our nice hike, I went to Mountain View for the second time this year. This time, it was a restaurant that served delicious chicken curry.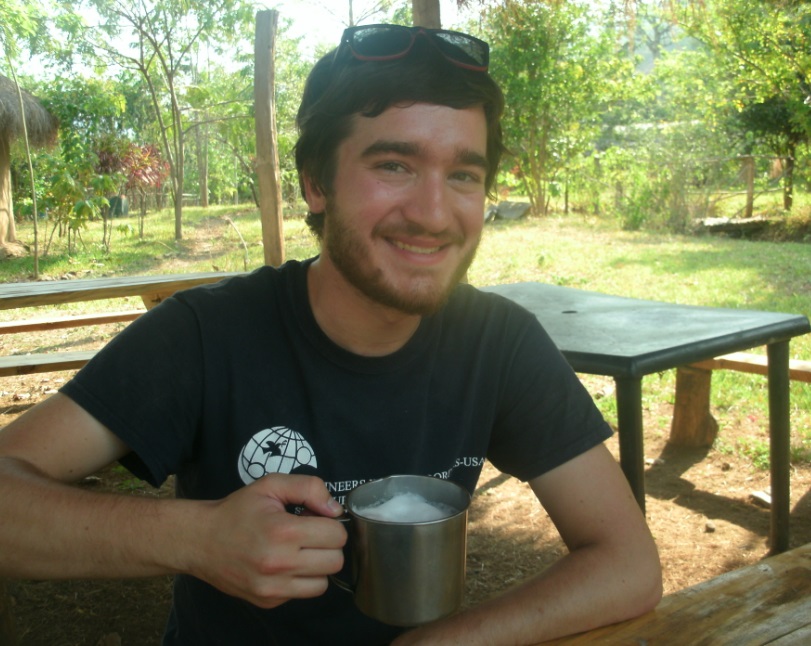 one of the most important parts of camping
Last night, another friend and I took a picture with Mwavita, our friend who runs a local bar. She enjoys when I come visit to practice my Kiswahili. Afterwards, I got a hair cut, and have been getting compliments all day today ;-)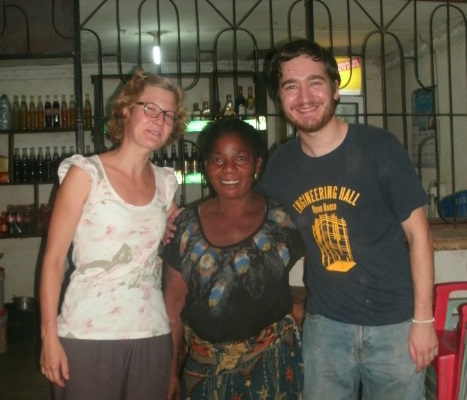 I've decided I will write a blog post every week in October, so keep on reading and stuff.
In the mean time, I'd like to share an article that I would recommend reading: The Oldest Woman In Africa at 126, Tanga Region, Tanzania. I would also recommend checking out the movie Ex Machina and the website/smartphone app what3words, which aims to give everyone an easy-to-remember address and never have to explain directions again!

top
---
Day-to-day living in Ifakara -- 14 September 2015
My dearest followers, I'm humbly sorry it's been so long since I've written you. Fortunately it means I have quite a lot to share with you.
First off, I must recommend the book Native Son, by Richard Wright. I think everyone in America should read this book, especially given what's happening with racial issues today. The book was recommended by someone special to me, and I now pass on the recommendation to my loyal blog readers.
I just finished reading The Man-Eaters of Tsavo, by Colonel J.H. Patterson. Quite an interesting story. I'm glad to say I don't feel as in danger of lions as I felt when relating to the characters in the book. Interesting also to see a historical European perspective of East Africa. This book is also free from the Internet Archive (audio version, as well) and Project Gutenberg, as it is in the public domain.
What else? Have I mentioned that in addition to fun adventures, there's also a lot of great work going on here? I recently re-watched The End Game, an Al Jazeera documentary that features the Ifakara Health Institute. I now know about half a dozen of the people in the film, and am recognizing more of the Kiswahili words. For a nice overview of some of the many projects, I would recommend checking out Professor Corliss' presentation. He's been spreading the word about the work that's being done here to some churches back home. I have learned about many of these projects myself, and hope to share a presentation of my own when I return to the U.S. of A.
I feel like I must share some pictures to show what else I've been up to...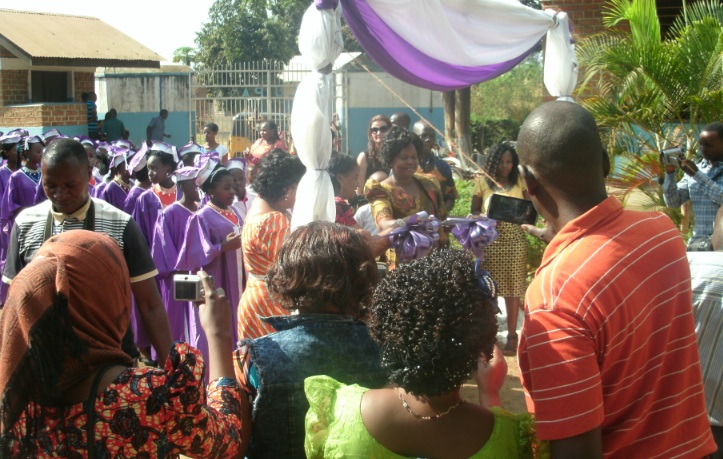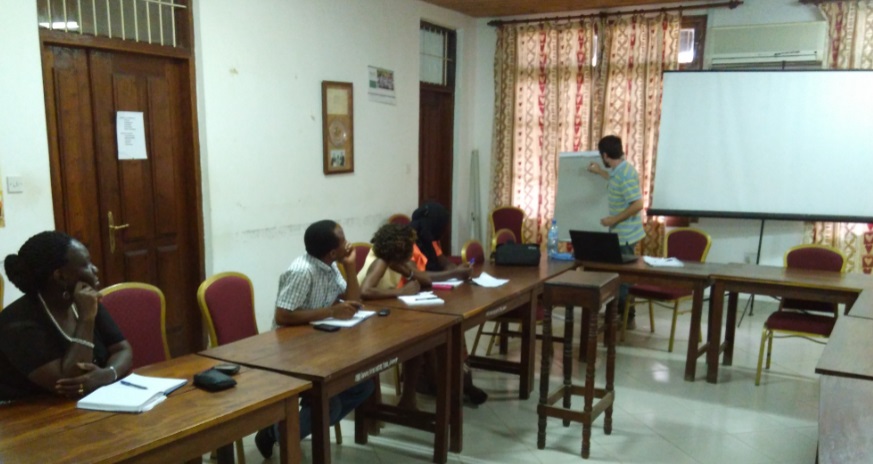 primary school graduation I attended – me leading one of my statistics workshops
Finally, just for fun: some mosquito art I saw online recently.
top
---
Sasa msimu ya harusi -- 31 August 2015
"Sasa msimu ya harusi" means "now is wedding season!" Guess what I did on Saturday? You got it; I went to my first wedding in Tanzania! I also went to my first two wedding receptions. That's right, we reception-hopped.
The wedding I expected to attend had so many people I knew! At the reception, there were at least a dozen people I work with, as well as my Kiswahili tutor. The Mass had fewer, but there were still a lot of people. It was similar to a wedding back home, as I could follow along with the service, but it was different in both language, length (to think a 15-minute homily/sermon back home is long, this one was about an hour), and the fact that we processed in together and people danced during the service several times.
Like back home, we took lots of pictures after the ceremony. And just like back home, when we took a bus to the place where we took pictures, everyone was singing in the bus. They sang a bit in a tribal language, so even my Tanzanian friend didn't know some of what they were singing.
The reception had delicious food and drinks, but there wasn't as much dancing as I expected. I danced for two songs; it seemed like people were called up, so friends danced this time, the wedding party had certain songs, etc.
The second wedding was a brother of a colleague, so I went briefly to make an appearance. I only knew three or four people there. If anyone's counting, I was the only mzungu at one wedding, and one of three at the other.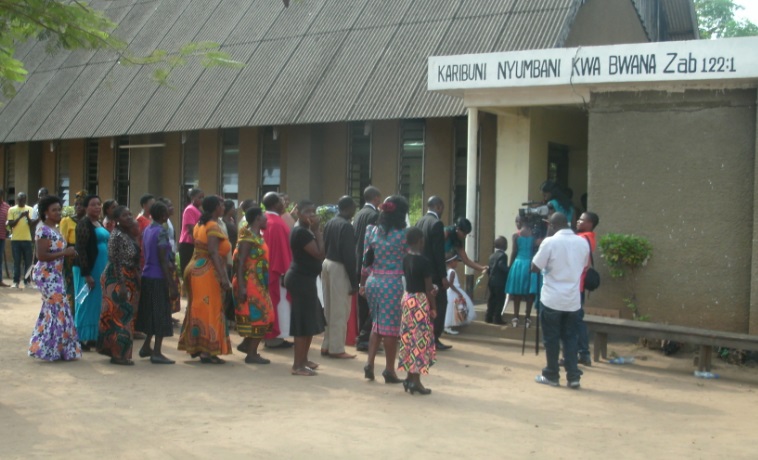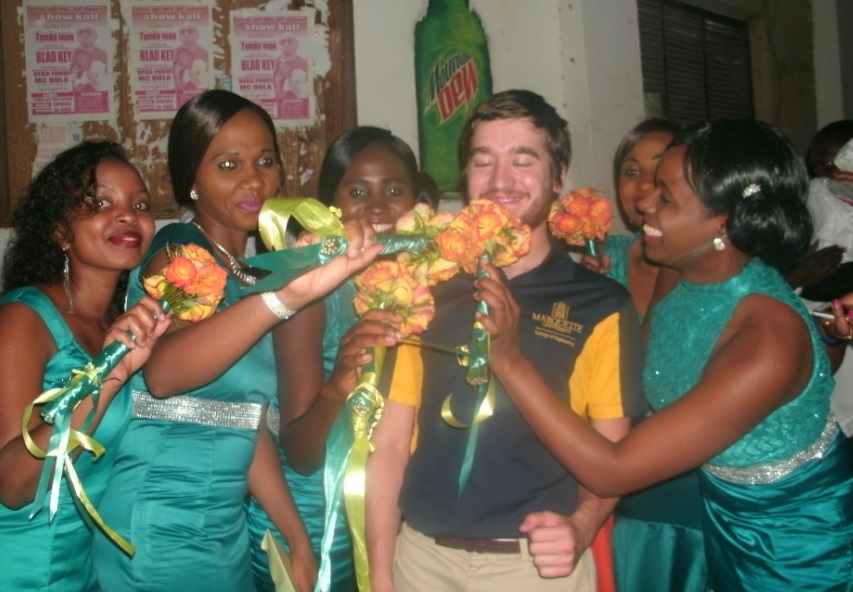 Wedding procession; Paul as popular here as he is back home.
I'm super excited for my next post. Stay tuned!

top
---
My water filter -- 22 August 2015
About a week and a half ago, I bought something for my house: a water filter! It's a pretty simple device, just a large bucket that has a terra cotta pot inside. It cost about $17, and will quickly pay for itself. It's nice to not have to buy bottles of water every day.
The water tasted a bit like terra cotta at first, so I flushed it a few times.
I bought it from an NGO called MSABI. Their name stands for Maji Safi kwa Afya Bora Ifakara, which is Swahili for "Safe Water for Better Health Ifakara."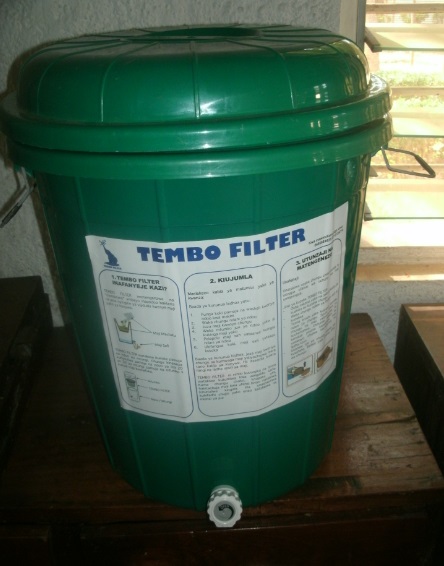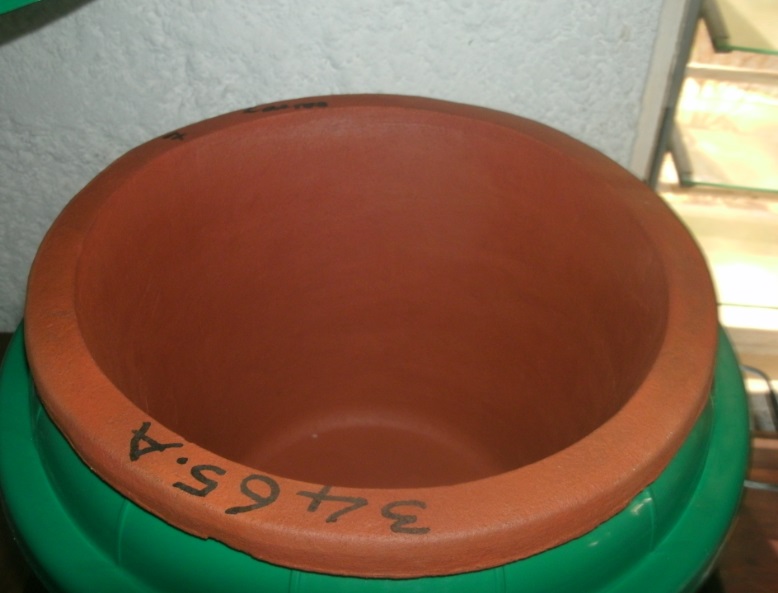 In other news, I played football ("soccer" for those of you in the US) Wednesday and Thursday! I expect both my football skills and my Kiswahili to greatly improve in the next few months.

top
---
The Malaria Capers – 14 August 2015
Looking for some weekend reading? I finished a book this week that deserves a post of it's own. It's called The Malaria Capers. I recommend it to everyone. I don't think many of us realize that mosquitoes have killed more people than any other animal has throughout history. They've killed more people than people have killed people.
The book is an excellent read. It read kind of like Freakonomics. Basically, the author tells several stories. While there is biology and entomology in the book, it was presented in an easy-to-understand way, even for someone who's background is computer science and math.
The book was mind expanding and, at times, moving. It was also interesting to read just from the perspective of someone who has just scratched the surface of scientific research. The book even talks about dinosaurs, so there's that.

top
---
Lions and elands and bikes, oh my! 10 August 2015
It's been too long since my last post. I went on my first safari August 1-4, and needed some time to recover. Part of the reason was I got a cold while camping, but I also needed some time to relax and contemplate the experience.
Did I mention how awesome safari was? We left early Saturday morning and arrived at Mikumi National Park in the early afternoon. We had to stop for a minor vehicular maintenance issue which involved some mechanics who made a new part out of metal on the spot. After we arrived and set up camp, we went on our first "game drive." We went on six drives over the four days and saw a plethora of wild life. I can't decide if my favorite were the baby giraffes (that were still really tall) or the zebras. We also saw seven lions from 10 m away (one male, five female, and a cub). And we saw elands, hippo (including one out of the water), crocodiles (including a baby), baboons (who we had to scare away from our campsite), many beautiful birds (my favorite had blue metallic wings), lots of impala and wildebeest, buffalo, jackals, and elephants marching next to our car. We ate really well: in addition to chicken stew, meat, and chipatis, we had vegetable paella and bruchetta cooked over the campfire.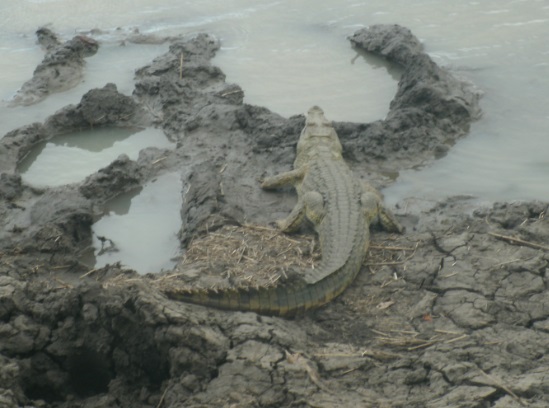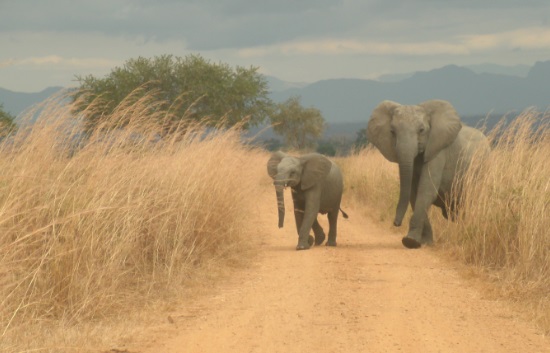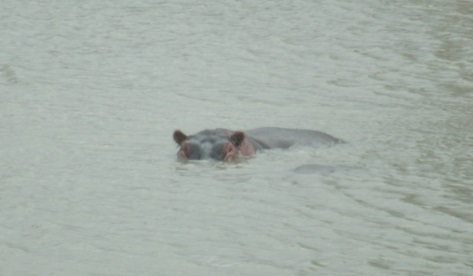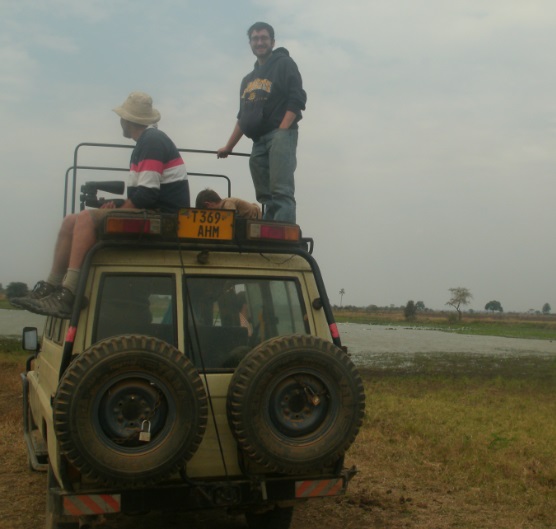 I accidentally swallowed a mosquito around the campfire, but I've been told you can't get malaria that way.
When we got back from safari, I was exhausted. The trip required lots of mental and physical energy. It was well-worth getting a cold. Still, I went to a party thrown for two different groups of visitors: two were from Kenya and two from Johns Hopkins University in the U.S. It was a good time to hang out with some of the really cool people at the IHI. We played pool and I increased my Swahili vocabulary a little.
The adventures continue. This past Saturday, three of use hired some canoe experts to take us and our bikes to a village called Mkeregembe. The canoe trip took about six hours under the sun. Needless to say, I got a little sunburned. Along the way, we greeted many fishermen and saw lizards, a crocodile (mamba), and a hippo.
It was a terrific experience to interact with the canoe drivers and villagers. We spoke very little Swahili, and they spoke very little English. Still, we were able to have a great time. We felt very welcome in the village and met some friendly soldiers who spoke English. There was a gentleman there with a Marquette shirt! The next day, we figured our way back via bike by asking people along the way which roads to take. Some of the people we met were Maasai shepherds. It was a long bike ride. Next time, I would try to find a mountain bike instead of the bikes we rented which were durable, but better for flat ground.
Today is Monday. At our weekly meeting this morning, I shared my ideas for leading some workshops. It was good that I proposed some specific times, but I learned that Tuesday through Thursday are often days where the research scientists are in the field. While many people might not be available for getting together those days, I can perhaps spend more time visiting the field to learn about their projects. Or working on projects myself.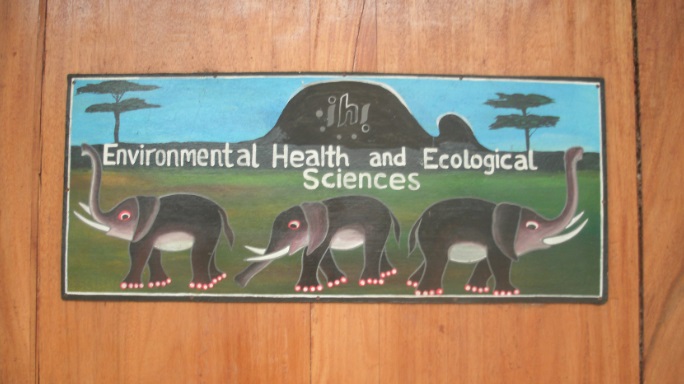 sign on the office where I usually sit
I'm excited for another great week in Ifakara. I don't expect to go on another trip, but am looking forward to beginning Swahili lessons, visiting the market to get some things, and hanging out with friends here.

top
---
Adventure-filled weekend! 28 July 2015
Last weekend was phenomenal. In addition to the trip to California that I mentioned previously, we went to a sand bank (a.k.a. camping on a beach). To get there, we hired some locals who paddled long dugout canoes with all of us and our stuff piled in. They were on the lookout for crocodiles and hippos. (side note: it's pretty conclusive that hippos are more dangerous than crocs)
Camping was a blast! We sung songs and chatted around a fire while sharing food. It sounded cheesy at first, but we sang "The Lion Sleeps Tonight" and everyone around the circle sang the chorus in their own language. These included German, Dutch, Spanish, Welsh, Swahili, and English, and I'm probably forgetting several.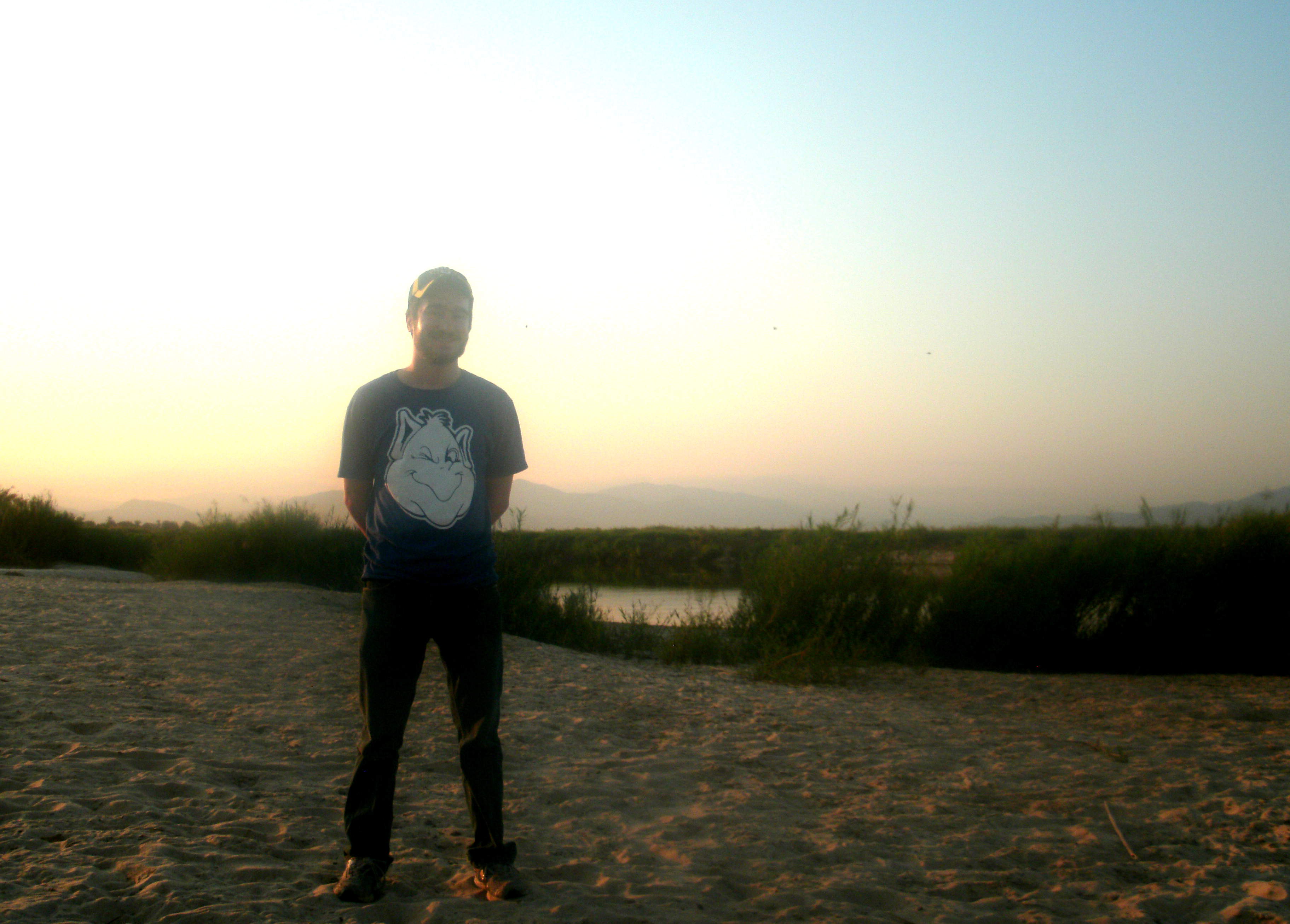 Me on the sand bank
We woke up with the sun the next morning and made the trip back. My friend Max and I then took a dala dala (bus) to Udzungwa Falls. This was definitely my favorite part of the weekend. We hiked for about four hours and saw many things, including medicinal trees (some of which were used for very interesting things), an "elephant toothbrush plant," a green mamba, a bunch of monkeys jumping in the trees (including some that are only found at Udzungwa National Park), ant migrations (the ants hiss if they feel threatened), a monitor lizard, buffalo spiders, a tree that can be used to communicate over three miles, as well as a few other hikers. Our tour guide was very knowledgeable and speaks five languages.
Oh yeah, the water falls were amazing. I was very tempted to swim in the pools, though the water was rather cold. We talked about going back and camping at the park, so maybe I'll swim there.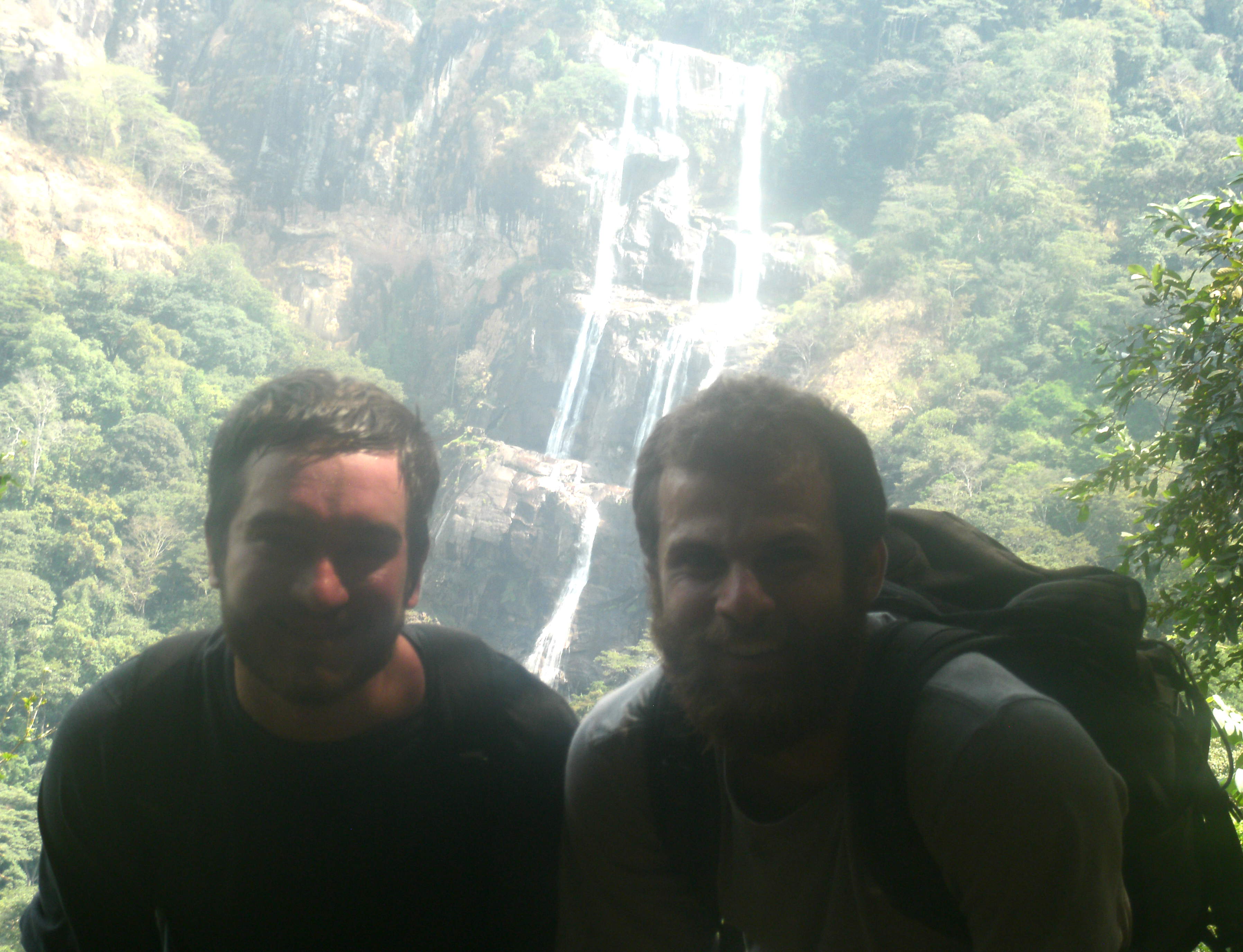 At Udzungwa Falls
If you've been reading this blog I hope you realize that it's not all wild and nature here. I'm also getting work done. In addition to reading papers about malaria, I participated in a workshop yesterday where we explored data that showed how effective bed nets are at reducing exposure to mosquitoes. More so than it had before, it sank in just how important the work the people here are doing. I hope my time here can be useful to them, as I've already learned so much and enjoyed so many things about my journey.

top
---
End of week 1: July 23, 2015
I feel safer from lions here than I would in Milwaukee right now. (article)
This week was productive. I got to visit the field for the first time. We visited a screen house (think screen door but an entire building) where mosquitoes are raised. Different stages of development are raised in different basins. Someone has to be there every day to monitor their food and move eggs and mosquitoes of different ages to their appropriate bins.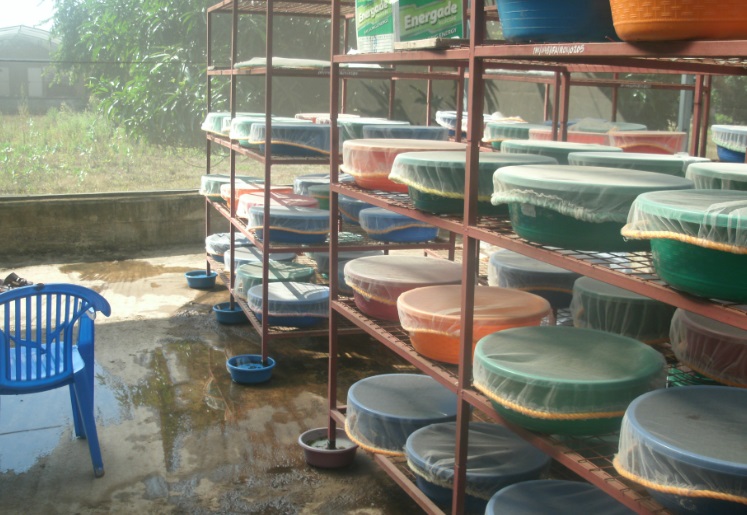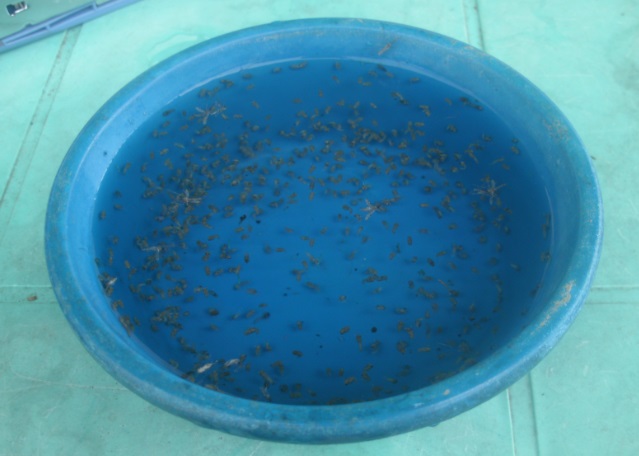 The adult mosquitoes are either used for various experiments or, if they are to reproduce, someone has to stick their arm in a screen box to allow them to feed. I haven't done that yet, but I did help scan some mosquitoes using a near-infrared scanner.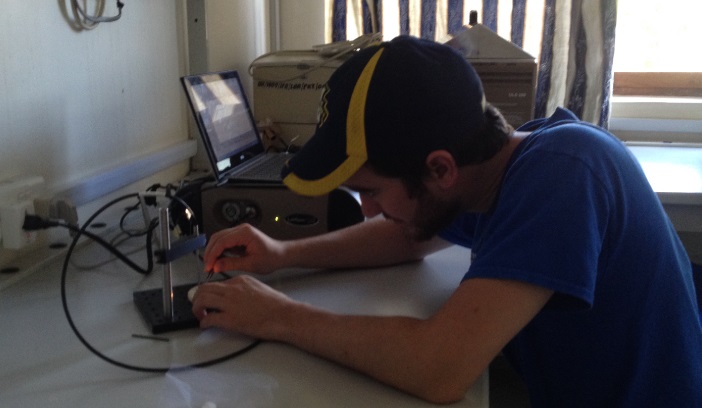 I have also started helping in ways I can with statistics (good discussions on sample size), some calculus, and computer programming. Feedback from a presentation I gave about my thesis has given me many ideas for things I might do in the coming weeks. Stay tuned.
I really like the food. Breakfast has several options, including hard-boiled egg, bread, plain donuts, sausage, and scrambled eggs. Lunch is typically a mound of rice served with a spinach-like green, kachumbari (fresh tomato and onion salad), and optionally meat and/or beans for a little extra. Dinner depends on the night. One night I had samaki na ugali, which is fish with a ball of a maize or in this case cassava-based mush (for lack of a better word) that you pull apart and use to eat the fish and sauce.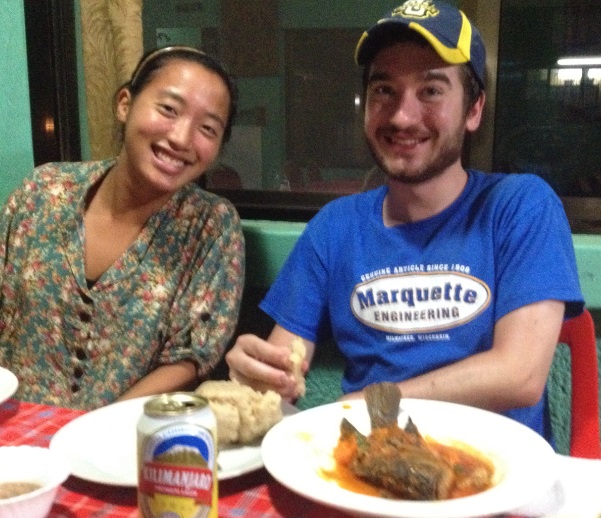 Last night we went to a club called California. Friday is definitely a party day here, and they go much later into the night than back home!
That's all for now. Later today, we're going to a sand bank. Tomorrow, we're planning on seeing Uzungua Falls!

top
---
July 20, 2015
I already have so many stories to tell...
I've been in Tanzania for five days, and already I'm in love. We went to a club football match (that's the name the rest of the world calls the sport we call "soccer"), Gormahia from Kenya versus Yanga from Tanzania. Unfortunately Yanga lost, but it was a great match. To the best of my crowd watching, there were a total of three mzungu (white people) at the game. Two of them were coaches. On the way out, we saw the former Prime Minister of Kenya leaving the game!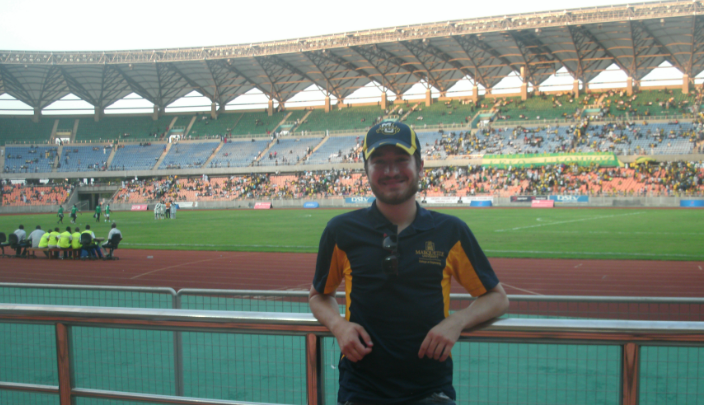 Yesterday we embarked on the eight hour drive from Dar to Ifakara. I was not bored the entire way, part of which was through Mikumi National Park. I've now seen so many animals, including: cats, dogs, lizards (in my room), frog (well, I heard it), chickens, goats, cows, an orange millipede, a heron, small birds, crows, ants, baboons (cute babies on their mothers' backs were right next to the road!), impala, buffalo, giraffes, elephants, ellants, antelopes, wildebeasts, and of course, mosquitoes.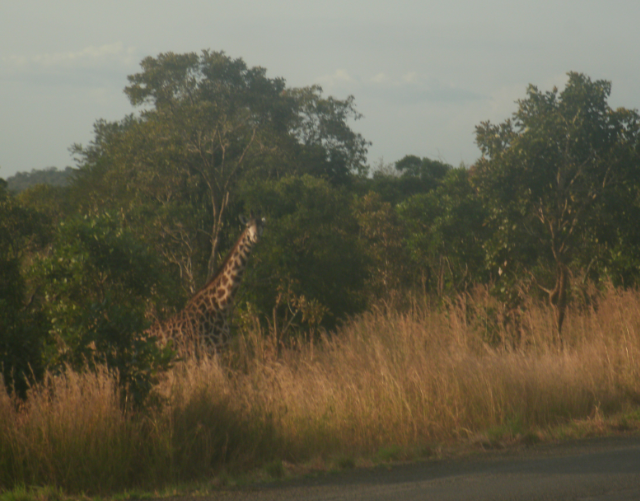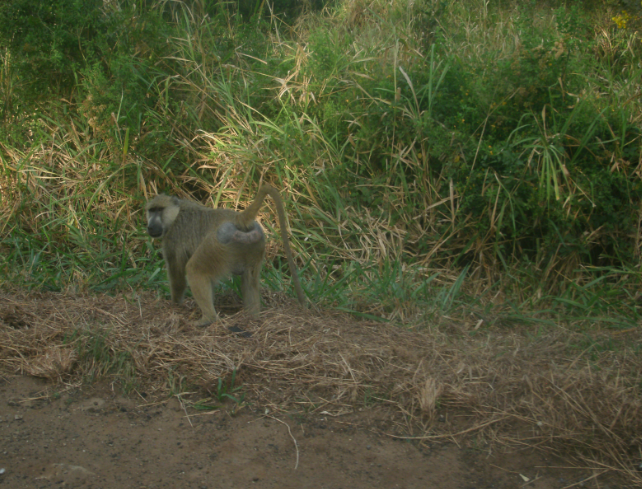 In Ifakara, I am staying in a house that has a swimming pool out front. It's a very nice accommodation - more space than I've ever had to myself before. The people at the Ifakara Health Institute have been so friendly and welcoming. I look forward to working with them on various projects. While many that I've meet do research on malaria, there are also researchers working on water sanitation and HIV. Most people are from Tanzania, and there are some from Kenya, a few countries in Europe, and I've met one other American so far (though several people have studied in America).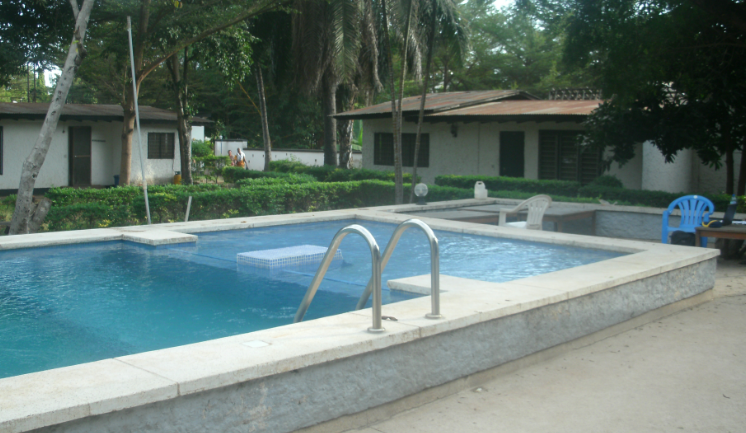 My house is the one on the right.
I am excited to continue my adventures in Ifakara! My plans coming up include leading a workshop on calculus and differential equations and buying a bike.

top
---
July 18, 2015
I can honestly say that nothing has been what I've expected in Africa so far. Part of this can be attributed to having read Africa Friends and Money Matters, which primarily instilled in me a sense to spend time understanding others before judging them based on my preconceived notions of their culture.
What, you ask, is different than I expected?
Food: My favorite so far is chips mayai ("my-eye"), which are French fries and fried eggs cooked together in something that ends up sort of like a pancake:


People: not crawling all over me. I'm not that big of a deal, or maybe because I'm still in the city, being white is not too uncommon. Also I'm constantly with friends, so maybe that helps.
Mosquitoes: I don't need a baseball bat to defend myself.
Night culture: well, this was (possibly) impacted by the fact that my first full-day happened to be a holiday
Beer: Preface: I gave myself no expectations, as nothing can compare to Wisconsin's offerings. So I have been pleasantly surprised. I've only tried Castle Light and have been told there are better beers. Interestingly (unsurprisingly?) the Tanzanian Brewing Company is a subsidiary of SABMiller.
Internet: there is cheap 3G access via USB modems. That said, I still don't have access 24/7 like I'm used to.
Coke: visiting Guatemala made me expect it to be made with something "exotic" like cane sugar. I have learned (thanks Masabho) that it's manufactured with different water in different regions. After that, I recognized the subtle taste of what we call "hard water" in the States.
And lastly, the roads: I did not think they would drive on the left. Nor did I expect bajaji (what I had formerly known as "tuc-tucs").
I miss home, but really for the people. I will have so many stories to share when I get back. One being our unexpected stop en route in Egypt. Another being my experiences with football here (more to come soon!).

top
---
2/26/2015, 10:55 PM
This is my first (test) blog post. I will write more substantial posts soon.

For now, feel free to check out my Human-Robot Interaction blog.


top